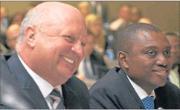 A NEW ERA AT STANDARD BANK Headline earnings grew 10%, boosted by its operations in the rest of Africa, which posted a significant 69% rise STANDARD Bank Group joint CEO Ben Kruger said at its annual results presentation yesterday the bank expected its offshore operations to turn profitable this financial year, a change that should help it boost earnings to upper-double-digit growth.
Standard Bank is a great performer in SA compared with its peers, FirstRand, Absa and Nedbank. But the group's earnings were dragged down by lossmaking operations offshore. In the year ended December, Standard Bank posted a 10% rise in group headline earnings to R15bn compared with Nedbank, which rose 21.4% to R7.5bn.
Absa's headline earnings in the same period fell 9% to R8.8bn. FirstRand, whose results are not directly comparable because its financial year-end is June, posted an interim 25% increase in normalised earnings to R7.2bn for the six months to December.
Standard Bank's headline earnings were hammered by a R1.8bn headline loss outside Africa. But its "rest of Africa" business grew headline earnings 69% to R1.8bn. When one compares Standard Bank's personal and business banking units with Nedbank's retail and business banking, FirstRand's retail commercial and, lastly, Absa's retail business markets and insurance in SA, then Standard Bank punches above its peers across many segments.
Standard Bank's personal and business banking headline earnings jumped 25% to R7.6bn. Absa's retail and business market's businesses posted a 26% decline to R4.3bn. FirstRand's retail bank, FNB, posted pretax profit growth of 18% in the sixmonth period. Nedbank's retail unit posted an 18% rise in earnings, while business rose 9%.
In terms of cost-income ratio, Standard Bank reported it at 54% in SA compared with Nedbank's 60%, FirstRand's 52.1% and Absa's 55.1%. In noninterest revenue, FirstRand has the highest with about R18.5bn, while Absa and Standard Bank are close to R16bn. Nedbank's is about R12.1bn.
Standard Bank continues to grow faster than its peers in terms of home loans. Standard Bank joint-CEO Sim Tshabalala said the bank was open for business when it came to mortgages but it was scaling down unsecured lending. Mr Tshabalala said the bank had acquired more than 1-million customers last year and more than 2-million new accounts thanks to changes in its current accounts that have resulted in savings for clients. Through this strategy the bank has retained clients.
Man with prominent public profile STANDARD Bank Group joint CE Sim Tshabalala, winner of the CNBC Africa Business Success in Africa Award 2011, has been at the helm of Standard Bank SA since 2008, writes Nick Hedley.
The 45-year-old has various law, tax and advanced management qualifications from Rhodes University, University of Notre Dame in the US, University of the Witwatersrand and Harvard University.
Mr Tshabalala has a prominent public profile and holds the important banking industry position of chairman of the Banking Association of SA. He attended school at Sacred Heart College in Johannesburg.
Vestact Asset Management analyst Sasha Naryshkine said Mr Tshabalala may have been considered to be too young and the board "probably couldn't come to a unanimous decision to fast-track Sim into the job, although ironically he is at an older point in his life than when Jacko got the job, but Jacko of course had been there for nearly 20 years when he got the job".
But Mr Naryshkine said both Ben Kruger and Mr Tshabalala "are more than competent for the top job" in their own right. Mr Tshabalala joined the group in 2000 in the project finance division of Standard Corporate and Merchant Bank and was appointed to the executive committee a year later.
Mr Tshabalala remains CE of Standard Bank SA, and now takes charge of the group's banking businesses outside SA on the African continent as well as the group's wealth businesses, including responsibility for Liberty Holdings.
From 2001 to 2006, he was MD of Stanbic Africa, and from 2003 he served concurrently as deputy CE of personal and business banking. Mr Tshabalala was appointed CE of personal and business banking in 2006, and in June 2008 became CE of Standard Bank SA.
In 2009, he was appointed deputy CE of Standard Bank Group. He has worked at law firm Bowman Gilfillan as a candidate attorney and also as a professional assistant, as well as executive director at Real Africa Durolink Investment Bank.
Caption: STANDARD BANK GROUP IN CHARGE CEO Jacko Maree announced to the media that he would step down, leaving the business in the hands of Sim Tshabalala, right, and Ben Kruger.
Story by PHAKAMISA NDZAMELA Financial Services Correspondent
Picture: MARTIN RHODES
Source: Business Day
Source: Business Day
Please help us to raise funds so that we can give all our students a chance to access online teaching and learning. Covid-19 has disrupted our students' education. Don't let the digital divide put their future at risk. Visit www.ru.ac.za/rucoronavirusgateway to donate