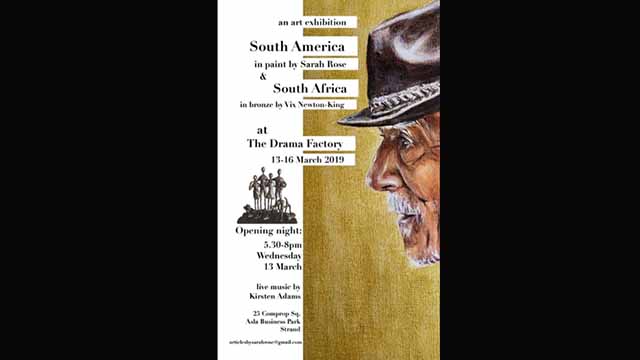 A showcase of local talent featuring art by Sarah Rose and Vix Newton-King.
Sarah Rose is a self-taught artist who graduated with Bachelor of Journalism at Rhodes University before moving to Prague, Czech Republic, to do her Honours in Fine Art. She has travelled between and during her studies, and much of the art created along the way can be found on her Facebook page, ARTicles by Sarah Rose. She is currently based in Somerset West.
"For six months I lived my dream of backpacking in South America. I travelled with my puzzle piece, my older sister and friends found along the way; I hiked the mountains, fell into the madness of the markets and spent two months teaching in Peru.
But it was not enough to see new things and buy souvenirs - there was another way I needed to appreciate and capture the beauty of the places and faces and scenes. And so, whenever time allowed, I sat with canvas and acrylics and plenty of patience. These pieces, most of which lived in my backpack for a few months, are a testimony to a place, an emotion, a window in a whirlwind.
This collection does not presume to capture the complete kaleidoscopic thrill of South America - you need tickets and a long vacation to discover that - but it is a glimpse of what I found in the five countries I visited, and the essence of my experience."
Vix Newton-King is a Drama teacher by day, and sculptor by night.
She started sculpting at a young age with candle wax and then the soft lead around the tops of vintage wine bottles. This entertained her whilst sitting at the table with her family. She later sold her lead figurines to Veuve Clicquot Champagne, a few curio shops and bush lodges.
Years after getting married and having children, her family moved to Uganda for three years. Here she started informal classes on the Makerere University grounds and later moved over to the sculpture department where she found a young lecturer who was willing to teach and guide her in the art of making sculptures from lead to wax and, eventually, bronze. She learned the old method of lost wax technique and still uses those methods today.
Her style is playful and quirky and her sculptures are small maquettes ranging up to her largest sculpture of 1,5 m. She now lives in Somerset West and continues to work on her sculpture.
The exhibition opening will be held on Wednesday, 13 March, with live music by Kirsten Adams and glass-bottled orange juice being sold by Harry Dankwerts. Viewing times for the exhibition are 10am-2pm from Thursday 14 - Saturday 16 March, or by appointment. Contact articlesbysarahrose@gmail.comfor more information.
Source: https://www.broadwayworld.com/south-africa/article/SOUTH-AMERICA-IN-PAINT-SOUTH-AFRICA-IN-BRONZE-Come-to-The-Drama-Factory-20190306
Please help us to raise funds so that we can give all our students a chance to access online teaching and learning. Covid-19 has disrupted our students' education. Don't let the digital divide put their future at risk. Visit www.ru.ac.za/rucoronavirusgateway to donate