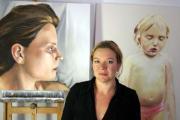 Tanya Poole is the curator of the exhibition, Emerging Painters: The Graduate Show at the Turbine Art Fair 2016. Over 50 galleries and exhibits from across South Africa will be showcasing the finest contemporary and emerging African talent. TAF16 aims to promote new work and talent and to create a new art audience and collector base.
This exhibition returns for a second year after a sell-out success at TAF15 and is curated especially for the Turbine Art Fair and performs the role of both following the progress of some of the artists who featured in Emerging Painters 2015 (curated by Hentie van de Merwe) and showcasing new emerging artists. These artists are drawn from the Fine Art Departments of South African universities and are either currently engaged in painting practice as students or are recent graduates.
With the current international resurgence of interest in painting as well as the focus of the art world on contemporary African artists, this is a particularly dynamic and vital time for emerging painters in South and Southern Africa, and this exhibition attempts to track some of the conceptual concerns and aesthetic trajectories apparent in the practice right now.
For new collectors, this is an ideal opportunity to invest in this future generation of painters.
Tanya Poole is an artist and Senior Lecturer and the Head of the Painting Section at the Fine Art Department of Rhodes University. She was born in Canada and grew up in Bahrain, the UK and South Africa. She graduated with an MFA from Rhodes University in 1998. In 2015, she was awarded the Rhodes University's Vice-Chancellor's Distinguished Teaching Award. Poole has exhibited extensively nationally and internationally, in group and solo shows. Her most recent solo exhibition was Thozama and Rose, installed in Galerie M Bochum in Germany in 2015/16 and her most recent group exhibition was U/Tropia, curated by Brent Meistre and Daniel Ebner at the Vienna Art Fair (Wien Festwochen) in Austria in 2015. In 2005, she won the Brett Kebble Art Award, the most prestigious award of its kind in South Africa at the time. She lives in Grahamstown, South Africa, with her husband Nigel Mullins and their daughter, Sophie and is currently on residency in Indonesia.
http://jozistyle.joburg/turbine-art-fair-2016/
Source: Alumni Relations
Please help us to raise funds so that we can give all our students a chance to access online teaching and learning. Covid-19 has disrupted our students' education. Don't let the digital divide put their future at risk. Visit www.ru.ac.za/rucoronavirusgateway to donate