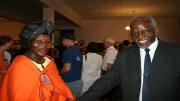 Photo: (Ms Nomonde Sibawu was the praise singer at the farewell of Prof Peter Mtuze, who retired from the Board of the Albany Museum in December 2006.)
"READ and read and do more reading," renowned Xhosa writer Peter Tshobisa Mtuze said on Monday, when he was honoured by the Eastern Cape government for his lifetime's work.
"Read books in your own language and if you have time, read books in other languages as well. There is no harm in reading other languages,'' he said. The event was part of the department of sports, recreation, arts and culture's programme at the Wordfest, a gathering of writers who produce literature in South African languages that takes place in conjunction with the annual National Arts Festival. Guests included the department of sports, recreation, arts and culture MEC Pemmy Majodina, Rhodes University vice-chancellor Sizwe Mabizela, the founder and convener of Wordfest profe ssor Chris Zithulele Mann and another veteran writer from the Eastern Cape, DJ M Ngcangca.
Majodina praised Mtuze, 74, who has written more than 30 books, from novels, plays, poetry to translations including his masterpiece novel, UDingezweni and Apha Naphaya, a book of poetry. Emphasising how the Xhosa people and other South African ethnic groups had been robbed of their wealth such as land during colonialism, Majodina singled out indigenous languages as the only piece of their identity that black South Africans still had intact.
"Your toil and sweat were not in vain," Majodina said in Xhosa, addressing Mtuze. "We are proud of you.'' The MEC said the same to DJM Ngcangca, a writer born in Sterkspruit, a rural town in the Joe Gqabi district municipality of the Eastern Cape, who writes mainly in Sesotho. People in the northern and north eastern parts of the Eastern Cape such as Sterkspruit, Aliwal North and Matatiele speak Sesotho interchangeably with Xhosa.
Mtuze was born in Middelburg near Cradock. An award-winning author, he became the first black professor at Rhodes University when he joined the African languages department as a lecturer in I988. He is now retired. In his acceptance speech, Mtuze lamented the state of indigenous literature. He said: "We are in a crisis situation, where we have the authors but we don't have the language speakers. I speak from experience. I worked for more than 15 years as a translator and more than nine years as an editor for a publishing company. Writers of isiXhosa today have good ideas but they don't have the language to express their ideas.
"My cry today is that you can't look down on the language and hope to succeed as a writer. I am saying start with your language and your culture and who you are.'' But there were promising signs, Mtuze said, like the recent launch of l'solezwe lesiXhosa, the country's only Xhosa daily newspaper. He also commended the late radio presenter and DJ, Saba Mbixane, who introduced the first programme of indigenous music at Umhloloo Wenene FM, Lavutha Ilohayi which became the radio station's signature show by the time of Mbixane's death this year in a motorcycle accident.
"What that says to me is that you've got to be yourself first before you can become what you hope to be,'' Mtuze said.
Source: The New Age
Article by THABO JIJANA
Photo: Online Archives
Source: The New Age
Please help us to raise funds so that we can give all our students a chance to access online teaching and learning. Covid-19 has disrupted our students' education. Don't let the digital divide put their future at risk. Visit www.ru.ac.za/rucoronavirusgateway to donate