Latest Books Donated to the OR Authors' Bookcase
These books are donated to Alumni House and are creating a lot of interest!
A sincere Thank You to all authors who send their books to us. As you can see, the subjects of the books are very diversified which is a true reflection on our Old Rhodians. Please note that the year date depicts the first year that the Author was at Rhodes and not the year the book was published.
Cecile (Scholtz) Yazbek (1971)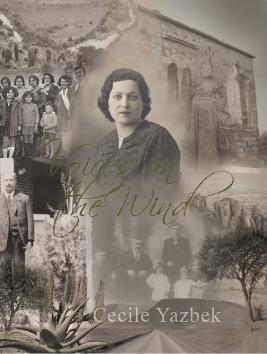 Cecile Yasbek's novel Voices on the Wind is a poignant story of Australian Eva's search for her unknown Lebanese ancestors. Cecile's evocative recreations of the lives of Eva's relatives fills in a blank past for Eva and gives the reader a rich insight into the Lebanese community of early nineteenth century South Africa. The novel enters the world of the Lebanese diaspora, a community with more than a century's presence in this country. Voices on the Wind pays homage to our forebears who left Mount Lebanon and split themselves between continents. We read of their need to forge local relationships in the new land, dramas of legislation and national events beyond their control, dislocation and culture shock, and at the centre of it all…the women, often with nothing but their strength of character and will, holding us together down the generations.
Cecile has previously written a memoir of her life growing up as a Lebanese girl in South Africa, Olive Trees Around My Table, and an extremely popular and acclaimed vegetarian cookbook, Mezze to Milk Tart.
Buy the Book Online: http://www.angusrobertson.com.au/by/cecile%20yazbek
Source: http://www.waltermason.com/2015/07/the-launch-of-cecile-yazbeks-new-book.html
Mark Norrish (1971)
"There are five pillars in my life philosophy. Each of these pillars is represented by a finger on my hand (which makes them difficult to forget): family, myself, sport, wine and business."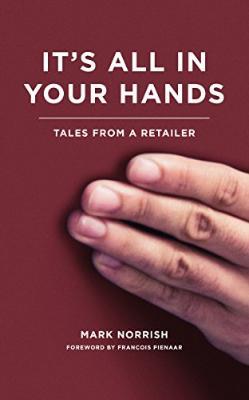 Having learnt so much from his own experiences as a family man, friend, sportsman and wine retailer, Mark Norrish shares his stories and favourite sayings in this quirky book.
25% of the profits of this book will be donated to the Make A Difference (MAD) Leadership Foundation which develops talented young scholars with leadership potential into future leaders of South Africa.

Mark Norrish is considered by many as a "great mind in international wine retail". His retail career has spanned 40 years and he has made his mark working for the likes of Pick n Pay, Game Discount World, Checkers, Shoprite Checkers and Engen. He currently heads up the family-owned national liquor chain, Ultra Liquors, as the National Wine General Manager.
https://www.amazon.com/dp/B071CFFW18
Nmamo Godwell (2003)
Sustainability, Climate Change and the Green Economy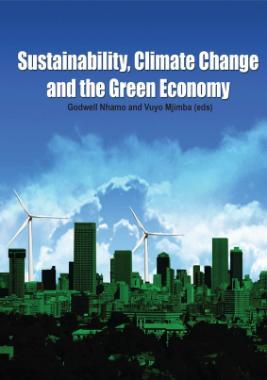 Editors: Godwell Nhamo, Vuyo Mjimba
Written by 18 authors, this book on Sustainability, Climate Change and the Green Economy brings together insights at the nexus of the four key concepts embedded in its title. The book is unpacked in six parts. Part 1 is a single chapter that covers the context of the topic. Part 2 looks at the green economy and green jobs, and addresses the challenges of government coordination and socio-economic development, with emphasis on skills and immigration regimes. Part 3 reflects on sustainable development, with a focus on relearning our wants and needs, and provides critical reflection on engineering for sustainable development. Management of natural resources and wetlands makes up Part 4, which teases out issues on timber harvesting, as well as challenges and opportunities in addressing environment-economic development and growth conflicts. A critique of climate change coverage in news media, mainstreaming climate change into wildlife policies, and tourism, are matters covered in Part 5. The last part (Part 6) is another single chapter, which articulates emerging issues from the whole book and presents some policy and take-home messages. Given the growing literature in the field of sustainability, climate change and the green economy, this piece will prove a must-read for policy makers, academics, industry and civil society.
Godwell Nhamo is a Programme Manager for the Chair in Business and Climate Change hosted by the Institute for Corporate Citizenship (ICC) at the University of South Africa (Unisa), which is sponsored by Exxaro Resources Ltd. He holds a PhD from Rhodes University and did his postdoctoral work with the University of Witwatersrand. Dr Nhamo has great interests in business and climate change as well as environmental management and policy. Some of his current responsibilities are in teaching, research and training in corporate citizenship, sustainability sciences as well as business and climate change.
| | |
| --- | --- |
| ISBN | 9780798305013 |
| Pages | 288 |
| Dimensions | 244 x 170 mm |
| Illustrations | Colour Illustrations |
| Published | 2016 |
| Publisher | Africa Institute of South Africa, South Africa |
| Format | Paperback |
David Hilton-Barber (1953)
The concession to mine gold at Tati was granted to a British baronet, Sir John Swinburne, by Lobengula, last king of the Matabele. Although called by colonial imperialists as a "savage king" and a "native despot", Lobengula was "exceedingly well-made (in height about 6 ft 10 inches), corpulent, with a commanding presence and, when in a good temper, having a kind heart and a full appreciation of humour".

The gold at Tati, which was discovered by the geologist Carl Mauch, was actually on the site of prehistoric diggings that had been mined there 400 years previously by the Makalanga people. Tati lay on the missionary road to the north, used by Livingstone and Moffat, and it was part of Cecil Rhodes's dream of a continuous tract of British imperialism from Cape to Cairo. The annexation of Bechuanaland was a direct result of the conflicts between the tribes within the area and the threats from President Kruger and from Germany which had recently colonised Angra Pequena.

Gold from the early diggings here found its way to Great Zimbabwe and the famous golden rhinocerous from Mapungubwe was probably fashioned from gold mined at Tati. This forgotten corner of the subcontinent encapsulates a chapter of our history involving five countries,
powerful men, much subterfuge, a botched invasion, a rebellion, land annexation, prospectors, hunters, traders and adventurers. It is a story begging to be told.
David Hilton-Barber (1953) in collaboration with Judge Pat Tebbutt: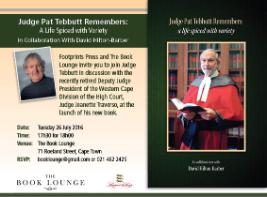 Judge Pat Tebbutt's memoirs as a journalist, broadcaster, barrister, businessman and judge. Judge Tebbutt has been fortunate to have lived a long life, blessed with good health and filled with interest and incident, with excitement and enjoyment, and with much happiness. It has been intertwined with the friendship and companionship of people. By and large he has tried to live by the injunction that underpins most religions: to do to others what you would wish them to do to you.
Available HERE
The Wartime Diary of WD Terry, a "SAfrican at Cambridge"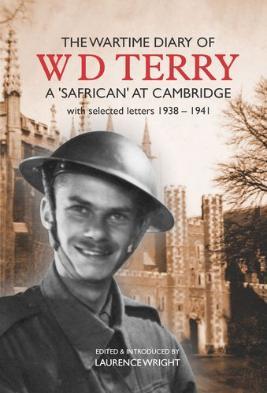 WD (David) Terry taught in the Rhodes English Department with Guy Butler from
1956 - 1965, and will still be remembered by older members, students and former colleagues. He was the father of Pat, Chris and Peter Terry, all well known in the Grahamstown community.
Laurence Wright, formerly director of the ISEA, has edited Terry's wartime diaries and correspondence, and the result is a vivid portrait of a young South African up at Cambridge from 1938 - 1940 caught up in the turmoil of that time.
Laurence's book "The Wartime Diary of WD Terry, a "SAfrican" at Cambridge" has been published by PrintMatters Heritage www.printmatters.co.za
The Ultimate Companion For Birding in Southern Africa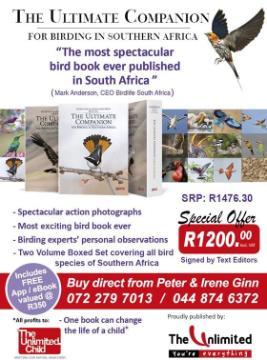 The book normally retails at R1 476.30. There are copies available directly from Peter Ginn, selling for R1 200.00 per set, which he shall sign before sending. Unfortunately they do not have a credit card facility but payment either in cash or by EFT is acceptable. Please contact Peter & Irene Ginn at 072 279 7013 or 044 874 6372 or email Peter directly at pgbs@cyberperk.co.za
Margaret James (1972)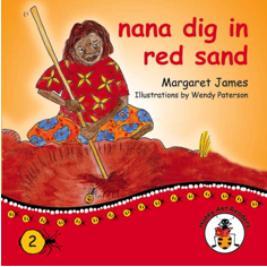 The Honey Ant Readers are a unique and innovative series of learn-to-read books with complementary resources, developed for Australian Indigenous learners, with traditional Elders, to make literacy learning relevant, meaningful, engaging and fun.
The HARs, underpinned by empirical and theoretical research, include books in Aboriginal languages, light Aboriginal English and Standard Australian English. They actively support the maintenance of Indigenous languages and culture, and the first 3 HARs are available in 7 traditional Aboriginal languages with audio CD.
Research shows that learners whose first language is not English, make faster progress in reading, and read with deeper comprehension, when the material is familiar to them, even though the language may not be. (So much of the material currently available is heavily Anglo-centric, culturally inappropriate and has little relevance for students in remote communities where little, if any, Standard English is spoken.)
The first edition of the Honey Ant Readers includes features of light Aboriginal English (AE), in the first 10 books, with the text gradually and systemically moving into colloquial Standard English (SAE) across the 10 books. This is done by following the natural order in which speakers of other languages have been shown to acquire the grammatical structures of Standard English.
Materials for very young, emergent readers include A5 pictures with matching words, card sets, board games, activity books, drawing books and songs and rhymes. All of which encourage interactive learning and prepare the young beginners for reading. The 123 colourful conversation cards are used to encourage oral and written language, as well as for counselling, role play and many other games and activities. A significant and popular adjunct to the reading materials are activities which have a focus on phonics and grammar, such as original songs and rhymes. These assist learners of English as an additional language in acquiring Standard Australian English.
The HARs teach reading by incorporating aspects of Aboriginal English into the text and building oral Standard Australian English through songs and rhymes.
We know that it is very difficult for people to learn to read and write in a language they do not speak.
We also know that once a person can read in one language, they can transfer that skill to another.
With the Honey Ant Readers, learners learn to read in the language they speak in the playground, their lingua franca, while giving that language respect. In the case of many Indigenous Australians this is a form of Aboriginal English. The learners can then transfer their reading skills to reading and writing in Standard Australian English.
At the same time the Honey Ant Readers reinforce and teach oral Standard Australian English through rhymes and songs, written specifically with Aboriginal English speakers in mind. Once Standard Australian English has been acquired orally, learning to read in that language is easier because it is meaningful.
Jen Thorpe (2003)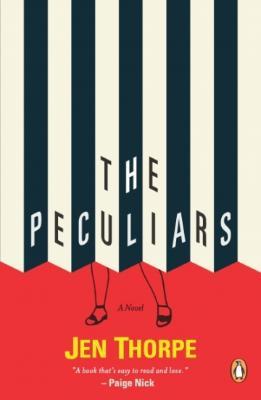 The Peculiars

Phobias abound at the Centre for Improved Living, where Nazma goes for help. She's crazy about baking and desperately wants to become a pastry chef, but her fear of driving keeps her stuck working in a train-station kiosk, where she sells stale food to commuters while dreaming of butter croissants and fresh strudel.
The Centre is also a lifeline for Sam, who is scared to death of being robbed and spends his days in his pyjamas in front of his computer, his house alarm always armed.
Like the rest of the patients, Nazma and Sam want to face their fears, but will four weeks at the Centre be enough to change their lives? And will the two allow their budding romance to bloom without letting their phobias get in the way?
Meanwhile, the Centre risks losing its funding, a fear that Ruby, the Centre's eccentric director, must face while she tries to manage the patients' fears.
Set in a Cape Town as peculiar as its characters, The Peculiars is Jen Thorpe's heart-warming and humorous debut.
"It's an engrossing, warm read that is perfect for a night in when you just want a book that just feels like home. Jen has created loveable, recognisable characters and a vivid picture of a side of Cape Town we don't often see." – Amy Heydenrych for Bookish
"this is a fun read that will also prompt some introspection." – Jana Wessels for Fairlady
Penguin Random House South Africa
Steuart Pennington (1971)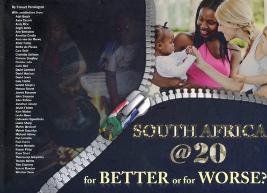 SOUTH AFRICA @ 20: for Better or for Worse? The dawn of 20 years of democracy is upon us. Are we building the kind of country we want for our children? Are we celebrating achievements while also confronting challenges? Is there a clear vision for the future of South Africa? Steuart Pennington's latest book – the 10th in the Good News series – provides thought provoking views and insightful perspectives to tough questions and real concerns about South Africa.
25 'True or False' chapters confronting our daily narrative
42 Prominent South African and international contributors
The 224-page book is beautifully illustrated, with more than 200 'Fast Facts', tables, graphs and images.
Our narrative is bedevilled with conventional wisdom madness. Rumours, half-truths and sensationalist reporting are very much part of the way we talk. In SOUTH AFRICA @20: for Better or for Worse?, we have selected 25 provocative topics to explore. Among them:
"Our university standards are dropping."
"It's not 'if' we will end up like Zimbabwe, it's 'when'."
"Our global competitiveness is terminally in decline."
"SA remains one of the most unequal societies in the world."
"Our trade unions are out of control."
"SA will run out of water."
"Our productivity is the lowest in the world."
"Our pay gap remains one of the worst in the world."
"Ex-pats slag us off at every opportunity."
We approached 42 prominent South Africans to write rebuffs. These include Pali Lehohla (Statistician General), John Robbie (702), Thulani Nzima (CEO, SA Tourism), Rowan Philp (award-winning journalist), Arno van der Merwe (Mercedes-Benz SA)and many more. They tell us the truth, show us the facts and expose the myths.
Available at Exclusive Books, some CNA stores, Kalahari.net, or directly from us at www.sagoodnews.co.za.
Presentations and interactive talks relating to the content of the book are delivered by Steuart Pennington.
Contact: Camilla@sagoodnews.co.za Cell: 083 447 6305
Marion Whitehead (1973)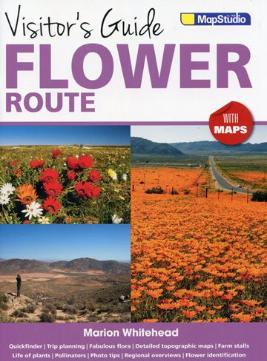 Welcome to the greatest wild flower show on earth with MapStudio's newly released Visitor's Guide Flower Route.
Your perfect guide for planning a flower safari is a new travel book called: Visitor's Guide Flower Route, by well-known photojournalist Marion Whitehead (published by Map Studio). The book offers fantastic practical advice on viewing the best spring wild flowers, the best places to view them and where to go and what to do (with a whole lot of clever hints and tips thrown in for good measure). Her images are also pretty spectacular and the entire book is a visual treat…
Visitors Guide: Flower Route (MapStudio) by Marion Whitehead is packed with useful information, from the best scenic back roads for flower spotting to fascinating facts about our fabulous floral heritage, plus photo tips. Places of interest for each region (West Coast, Namaqualand, Cape Peninsula and Overberg) are highlighted, as well as recommended eat, stay and play options. Clear colour maps throughout make navigation simple and a selection of flower photos assist in identification. Order directly from 0860 10 5050 or from the website.
Christopher Vaughan (1972)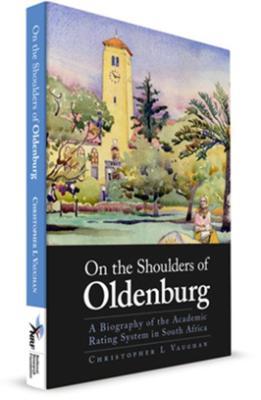 On the Shoulders of Oldenburg: A Biography of the Academic Rating System in South Africa. The book is an easy read, comprehensive, insightful and is brought to life by the reference to the various persons interviewed for the book. More importantly, it captures divergent views on the NRF rating system of evaluation and rating and places thes in perspective. Given the impact of the NRF rating system on South Africa's National System of Innovation (NSI), the biography assumes an even greater degree of importance.
ISBN 978-1-86868-111-2, National Research Foundation, Pretoria, 324 pages, 2015
Jean Branford (1972) and Malcolm Venter (1966)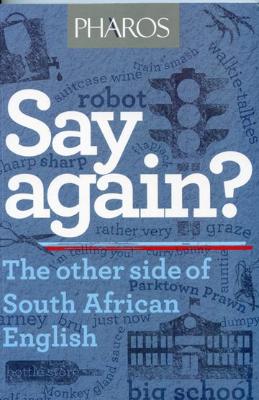 Say again? The other side of South African English Besides recognisable characteristics of South African English, such as 'Vrystaat', 'ou boet' / 'ou swaer', 'eksê' or 'nogal', speakers of South African English give clear indications – even if their accent is not marked – of their being South African. Many of our South African English structures have unexpected meanings or usages which are not found in General English. South Africans are also, like their counterparts elsewhere, linguistically creative, and have coined many new English words and phrases. You may readily recognise some of these items, but there will be others which you will be surprised to learn are unique to South Africa. It is this, as much as our accent and the borrowings, which makes South African English quite as distinctive as any other World English.

Would you, for instance, recognise South African English if you came across debates about labour brokers or transformation; or if you heard of someone who was making eggs, ordering monkey gland sauce, having a cadenza, busy dying or taking their pavement special to the vet? Would you identify a fellow South African if you were told that she still told you about something, or that someone is a real Model C, or that the teachers are threatening a chalkdown? And what about the children playing doctor-doctor – are they South African?

Maybe you have been surprised when you came across an overseas visitor who was waiting impatiently because someone had promised to meet her just now but had not yet arrived ten minutes later. Maybe you confused the visitor further by replying, 'No, I'm fine' when she inquired after your health.

And what about the person who says she is having a boyfriend in Jo'burg, or threw the cat with a stone, or forgot her jersey at the restaurant or enjoys hot-hot chips? Or perhaps he tells someone that a situation is very, very dire and that he therefore needs an advice? These may sound strange – or even incorrect – to some, but it is still English, just a different type of English: South African English.

All of these are examples of the unique English elements of the English that has been made in South Africa. And this book aims to regale you with many examples of South African English. An understanding of these items can be useful and enlightening to South Africans themselves in our linguistically rainbowed nation, as well as to strangers in our midst, who may well wonder what on earth we are talking about.

Written in an accessible style, each chapter features words and phrases from different aspects of life – some serious and some not so serious – with actual examples of usage from written and spoken sources. All this is interspersed with pictures and illustrations that liven up the text. Book available at Pharos.
About the Authors:
Ralph Goldswain (1963)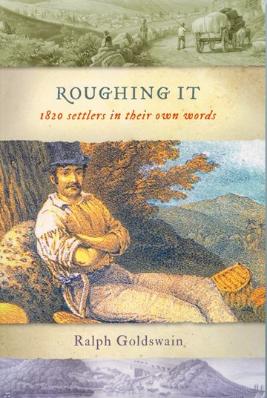 Did you know the term 'roughing it' comes from the tent city at Algoa Bay? Or that the settlers carried grain rations from Grahamstown on their backs for kilometres? One even called her new home 'the most miserable country in the world'.
1820 descendant Ralph Goldswain retells the tale of the settlers' dramatic first three years in South Africa in lively first-person accounts. Their letters, journals and diaries tell of the dangerous sea voyage, the dismal introduction to their new country, and establishing farms in a difficult environment plagued by drought, floods and locusts.
An engaging read with a delightful narrative touch, we journey with this resilient group of people as they battle nature, an increasingly hostile Xhosa nation and an exploitative colonial government.
Available: Amazon.com tafelberg.com
Mike Bruton (1966)
Fishing is one of the most ancient forms of hunting and has spawned an astonishing variety of innovative methods and equipment used to outwit and catch fishes and other aquatic animals. Traditional fishing methods of Africa addresses a much neglected but very important part of Africa's technological heritage: its indigenous fishing technologies.
These ancient technologies, developed and used over a period of 10 000 years, are still in use in rural Africa today to harvest aquatic resources in a sustainable way. This has ignited renewed interest in their potential to encourage long-term and sustainable use of fish stocks. Brilliantly illustrated and clearly written, this book serves as a perfect introduction to a fascinating topic that will enhance your appreciation of indigenous knowledge systems in Africa.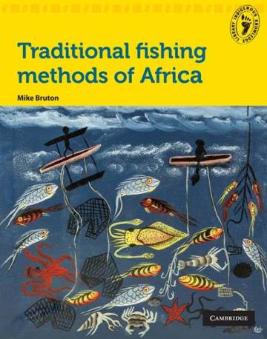 About the author
Mike Bruton studied zoology and social anthropology at Rhodes University and has had a lifelong interest in indigenous knowledge systems. He took a keen interest in the traditional fishing methods of the rural people of Zululand, Mozambique and Botswana while conducting research on fishes there. He has made extensive collections of traditional fishing gear and has continued to pursue this interest during his further travels in Africa and the Indian Ocean Islands. He was also instrumental in establishing an Angling Museum in Knysna that includes traditional fishing gear.
About the series Indigenous Knowledge Library
The breadth and scale of African indigenous knowledge systems (IKS) has been frustratingly difficult for learners and teachers to research, despite the emphasis placed on IKS in the curriculum. Cambridge's Indigenous Knowledge Library series offers a wealth of readily available, exciting and accessible material as a resource for high school learners and teachers for researching this invaluable aspect of our heritage. Written by authorities in their fields, the series reveals the relevance and richness of African indigenous knowledge across a range of topics. The books are filled with full-colour illustrations, information boxes and activities. Helpful extras include a glossary, an index and a list of resources that will simplify the process of discovery and enhance the enjoyment of learners and teachers as they delve into their African past.
Other titles in the Indigenous Knowledge Library include: Astronomy of Timbuktu Great South African inventions, Indigenous mining and metallurgy in Africa, Traditionally useful plants of Africa, The archaeological heritage of Africa, Fossils for Africa.
Cambridge University Press, Cape Town, ISBN ISBN 978-1-107-56187-8
Woordeboek van REGS-EN HANDELSTERME
Emeritus Professor Johan Smuts (1958) and Advocate Izak Smuts (1974)
A very unique addition was written by father and son, Emeritus Professor Johan Smuts and Advocate Izak Smuts. Woordeboek van REGS-EN HANDELSTERME, written specifically to provide practical reference work in which the meaning of legal and commercial terms can be consulted, especially as when choosing the right equivalent in cases where the terms have more than one significance of distinction.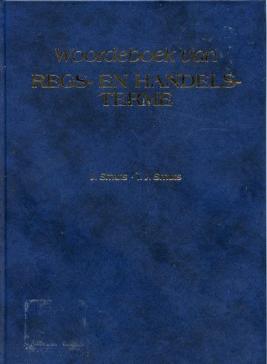 Bound for Pretoria: The Travel Writings of Henry Adams, 1878-1879
Edited by Fiona Adams (1985)
In the late 1870s a young English writer, Henry Adams, accompanied the first Anglican Bishop of Pretoria on a voyage to South Africa. This was followed by an arduous four-month trek by ox-wagon through Natal to Pretoria, against the backdrop of the lead-up to the Anglo-Zulu War. Henry Adams wrote 32 articles about the journey and their first few weeks in Pretoria, which were published in a small English newspaper under the title 'Bound for Pretoria'. His writing career ended when he became a priest shortly after arriving in South Africa. When he died in tragic circumstances 13 years later, both he and his travel writings were quickly forgotten.
The articles were rediscovered in 2015 by Rhodes alumnus Fiona Adams (B.Journ 1988), one of Henry Adams' great-granddaughters. She has now published them in a 332-page annotated collection as a way of reintroducing her ancestor to his other descendants, to whom he is completely unknown.
‌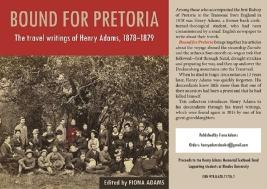 As a young man Henry Adams was a passionate advocate of the value of journalism in broadening people's minds. He was especially concerned with the youth of his time, for many of whom access to information was severely constrained by their socio-economic circumstances. As a man who wanted most of all to be useful in the world, the idea that his writing could serve a useful purpose long after his death would have appealed to him. With this in mind proceeds from the sale of the book (titled 'Bound for Pretoria: The travel writings of Henry Adams, 1878-1879) will be donated to the Henry Adams Memorial Textbook Fund for the benefit of students in the departments of English, History and Journalism.
Orders to: henryadamsbooks@gmail.com
Account name: Ms FM Adams
Bank: Standard
Branch: Vincent Park, East London
Branch code: 053721
Account: 036390267
SWIFT code: SBZAZAJJ
Robin Anderson (1960)
Four Zimbabwean Adventure Tales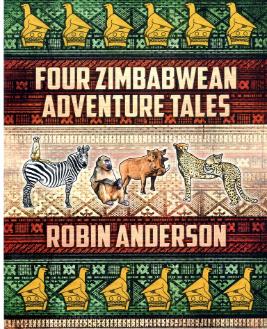 TALE ONE:
THE ADVENTURES OF MAISIE THE MEERKAT & BUNTI THE BUSHBABY –
THE RESCUE OF THE QUEEN OF SHEBA'S JEWELS.
A wicked plan by the even more wicked CHIEF KIMBULLI to steal THE QUEEN OF SHEBA'S JEWELS from her Jewel House in the ancient city of ZIMBABWE is not clever enough for young ARGO and his friends, MAISIE THE MEERKAT and BUNTI THE BUSHBABY. With the help of CORNELIUS the crocodile and VICTOR, a Velvet Monkey and his monkey team, the VEE VEES (the VICTORIOUS VELVETS!) CHIEF KIMBULLI'S so-called clever plan quickly ends up in disaster and the jewels safely returned.

TALE TWO:
THE ADVENTURES OF FI THE FIREFLY & MOMBASSA THE MILLIPEDE –
THE FOILING OF HIDEOUS & HEIDI THE HYENAS' HORRIBLE PLOT.
A special concert organised to celebrate ZIM DAY and held in the presence of The Queen of Sheba, proves to be in danger due to a nasty plan organised by HIDEOUS and HEIDI the HYENAS, assisted by VICTOR THE VULTURE and his team of ugly vultures (THE VILES) to sabotage the glamorous event. Thanks to FI THE FIREFLY, MOMBASSA THE MILLIPEDE, PERCY THE PORCUPINE and other friends their nasty plan is soon put into disarray.

TALE THREE:
WARRIS THE ALBINO WARTHOG WINS THE DAY!
WARRIS the albino WARTHOG wins the day when he shows WITHERSPOON and WENDI, his brother and sister who are forever teasing him about his pale colouring (WARRIS being a pale pink as opposed to a WARTHOG's usual muddy brown), you shouldn't judge a book by its cover in the same way you shouldn't judge a WARTHOG by his colour!

TALE FOUR:
THE ADVENTURES OF LUCY THE BABOON & CHARLIE THE CHEETAH.
DAVID and his friend PHINEAS – on discovering they can speak Baboon Speak with LUCY, DAVID'S pet BABOON and Cheetah Speak with CHARLIE, DAVID'S pet CHEETAH – soon find themselves caught up in the rescue of both LUCY'S and CHARLIE'S relatives caught up on the many islands formed by the rising waters of the new KARIBA DAM built across the mighty ZAMBEZI RIVER.
Medicinal and Charm Plants of Pondoland
Sinegugu Zukulu, Tony Dold (2000), Tony Abbott and Domitilla Raimondo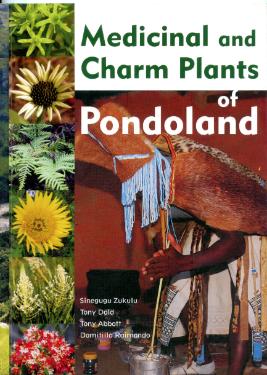 Medicinal and Charm Plants of Pondoland describes sixty medicinal and charm plants and their uses. The information of indigenous plant use in Pondoland presented in this book will be of relevance to anyone interested in plants in the region, but it is primarily aimed at school pupils. The primary focus of this not only to support scholars in these curriculum requirements, but it also aims to reawaken indigenous cultural knowledge and encourage the youth of Pondoland to engage with their unique biodiversity to ensure a sustainable future.
Available at Kirstenbosch Branch of the Botanical Society of S.A.
Pamela Heller-Stern (1964)
Who's Knocking on my Door?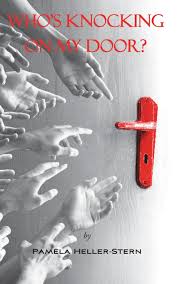 Who's Knocking on my Door? An intriguing question. Could it be Death knocking? What lies beyond the red door? Perhaps it's Stanley, an escaped prisoner-of-war in Italy. He survives World War II. And then what lies in store for him? The five siblings, Marina, Sophie, Gerald, Jeremy and Lawrence represent the family curse. Repeated five times. Famous film star, Romaine Tillney, disappears for two weeks. Why? What is going on? Finally Belinda, addict and user, commits an irretrievable act.

"Like a magician, Heller-Stern conjures up characters through the images." - Dr. Jonathan Marks, MBA Director, Gordon Institute of Business Science, Johannesburg. "Heller-Stern's unique, powerfully innovative use of language and style will take you on a journey to new possibilities within literature." - Prof. David Walwyn, University of Pretoria, PhD University of Cambridge.

Born in Cape Town. Dr. Pamela Heller-Stern obtained various degrees in English literature from the University of Cape Town, Rhodes University and the University of the Witwatersrand. She has lectured in English literature and was also involved in fine art.
Source: http://www.amazon.com/Whos-Knocking-Door-Pamela-Heller-Stern/dp/9187751968
Kit Vaughan (1972)
Imagining the elephant: A Biography of Allan MacLeod Cormack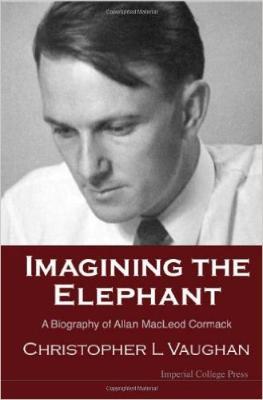 Imagining the Elephant is a biography of Allan MacLeod Cormack, a physicist who was awarded the Nobel Prize for Medicine in 1979 for his pioneering contributions to the development of the computer-assisted tomography (CAT) scanner, an honor he shared with Godfrey Hounsfield. A modest genius who was also a dedicated family man, the book is a celebration of Cormack s life and work. It begins with his ancestral roots in the far north of Scotland, and then chronicles his birth and early years in South Africa, his education at the University of Cape Town (UCT) and Cambridge University, and his subsequent academic appointments at UCT and Tufts University in Boston, USA. It details his discovery of the problem at Cape Town in 1956, traces his scientific footsteps all the way to Stockholm in December 1979, and then extends the odyssey to his pursuits beyond the Nobel Prize.
Contents:
From John O'Groats to Jo'burg;
On the Slopes of Table Mountain;
Physics and Friends at Cambridge;
Return to the Fairest Cape;
A New Beginning in Boston;
Finding Radon and His Transform;
On the Road to Stockholm;
Citizen of the World;
At Home in Massachusetts;
Appendices: Allan Cormack's Publications;
Nobel Lecture;
Presentation of Nobel Prize;
Man and Science in the 21st Century;
A Teenager's Odyssey.
Source: http://www.amazon.com/Imagining-Elephant-Biography-MacLeod-Cormack/dp/1860949886
‌Harriet Knight (2006)
The New Boy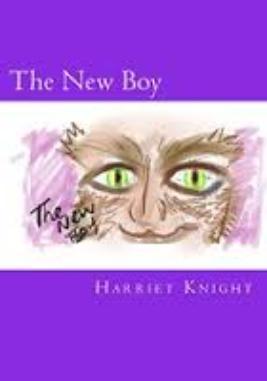 "Keep this girl in," said August nonchalantly, "she was the one who did it. What's your name again?" he said looking over to the laminated tag on her desk, "Rosie did it Miss Knight."
The class gasped in horror. The new boy had sealed his fate.

It's not easy standing up to bullies, especially on your first day. August surprises everyone with his plan for camp and how to get the class bully, Rosie, back.
Source: http://www.amazon.co.uk
Available: http://www.amazon.co.uk/The-Miss-Knights-Adventures-Book-ebook/dp/B00Y374PX4
Harriet Knight (2006)
The Substitute Teacher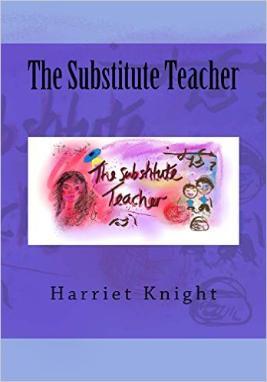 Harry and his friends are surprised to find their lovely teacher Miss Knight away, and covered by a frightening substitute, Miss Eerie!
Will the boys last the day with this witch, or will they succeed in getting rid of her?
Source: http://www.amazon.com/The-Substitute-Teacher-Harriet-Knight-ebook/dp/B00XAWDIMM
‌
‌‌
‌
Last Modified: Thu, 03 Aug 2017 17:03:43 SAST