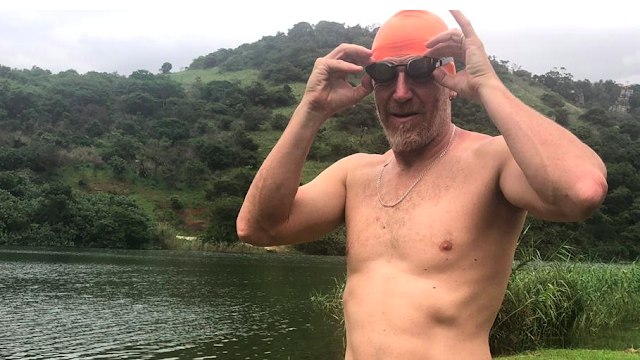 Cape Town open water swimmer Andrew Chin loves the extreme in lakes, rivers and oceans. On 29th November 2018, he completed his fifth Swim for Rivers challenge on the Mtamvuna River in KwaZulu-Natal. He swam 70 km over a 6-day period, finishing at the mouth of river just south of Port Edward.
"It involves athletes attempting to swim between 100 and 350 km in a major river in each of South Africa's nine provinces," explained Chin. "We do this to raise awareness around the poor state of our country's rivers and to highlight the urgent need to restore them. The swimming events are also intended to spark debate about what the relevant authorities and public can and should be doing to manage and protect our rivers.

Chin started on November 20th from the source of the Mtamvuna River in Harding district, near Kokstad. "I had intended to swim 165 km of the river - which forms the border between the KwaZulu-Natal and the Eastern Cape provinces - from source to sea. However, unseasonably low water levels in the upper reaches of the river forced me to walk and run part of the course, and later eliminate large sections of the planned route."

Difficult access to many remote stretches of the river provided an additional challenge, forcing Chin to hike up and down several steep gorges to reach start and finish points.

Chin was supported by fellow ice swimmer David Taitz who assisted with transport and logistical arrangements along the way. Chin, who swam solo, used a pool buoy for safety, buoyancy and to increase visibility.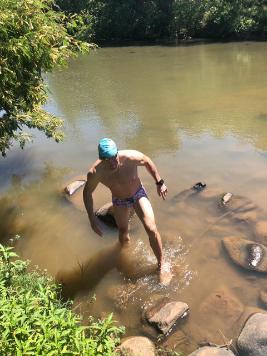 Chin explained what he saw and swam in and by, "I encountered some plastic pollution along the way, but overall the river was relatively clean with low human impact – possibly owing to the fact that a large stretch of the river (on the KwaZulu-Natal side) lies adjacent to the Umtamvuna Nature Reserve. However, soil erosion on the river banks from livestock overgrazing was prevalent in a number of areas, as was invasive alien vegetation such as black wattle.

Community engagement and education are important components of each Swim for Rivers challenge. I met many people along the way who depend on the river for their livelihood. Rural community members joined me on a 17 km walk along the river near Gundrift; they shared their local knowledge of the Mtamvuna and described the changes to the river they have seen in their lifetime.

On the final morning of the swim, 25 Grade 7 learners from Port Edward Primary School joined me on a beach clean-up near the river mouth where I addressed them on the importance of our rivers and the role that everyone needs to play in looking after them."
Chin founded Rivers for Life, a non-profit organization after growing up on a Free State farm, Chin learned the value of water - and its impact on survival - at a young age.

Early in his career he worked in rural development where he had to fill up and carry barrels to supply a project base camp with fresh water. This experience cemented his respect for water as a precious natural resource and ignited his passion to do something to raise critical awareness about the importance of river health.

His project involves open water swimmers taking on South Africa's rivers one province at a time to highlight the degraded state of the water, while creating awareness in the youth of their own power to restore river health and to be waterwise.

In January 2015 Chin and ice swimmer Toks Viviers swam 200 km in the Wilge River in the Free State over a period of 10 days.

In October 2015, Chin swam with another fellow South African ice swimmer Henko Roukema, however highwater pollution levels and exceptionally low flows forced them to abandon their quest to swim the length of the Berg River in the Western Cape. Their goal had been to swim the river from source to sea, but the polluted water caused such illness in the team that they were forced to call off the swim after completing 135 km of the river's 294 km length.

In 2016 Chin partnered with Mandy Uys to swim a 70 km section of the Orange River in the Northern Cape and to interact with over 1,000 school pupils along the way.

The 2017 swim took place in the Eastern Cape with a strong focus on estuaries as the critical link between our freshwater rivers and the sea. Chin was joined again by Mandy Uys as well as local open water swimmers Joy Stevens, Sean Murray and Nicky van Nierop.

For more information, contact Catherine Ritchie at swimforrivers@gmail.com. For more information about Swim for Rivers, visit here.
http://dailynews.openwaterswimming.com/2018/11/river-redux-andrew-chins-source-to-sea.html