Whatever Happened to Graham Mosdell?
By David | Published January 4, 2014
Sadly, Graham Mosdell, one of the most cheerful and competent people in the history of Western Australia's ICT history, has passed away after a well-fought battle with cancer. Moving on from Oracle after many years, most recently as manager, Graham Mosdell had been made the Perth manager of Google Enterprise. Previous to "Mozzie" being the manager of Oracle, it was a Pythonesque Autonomous Collective.
If, as a youngster, had you asked Graham who he would be working for, nobody would have guessed a Google, or a Yahoo!, or Whoop Whoop, unless you were working for the Ministry of Silly Walks. Congratulations Google, for being clever at selecting, and generously supporting Graham once diagnosed. I'm sure I join a chorus of industry folk wishing the family sincere condolences-Graham died within a cocoon of love with family and friends.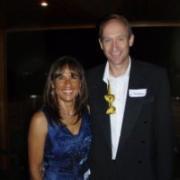 Last Modified: Mon, 08 Aug 2016 14:57:37 SAST