COLIN THOMAS ELLIOT STYLE
(3 August 1937 - 22 September 2014)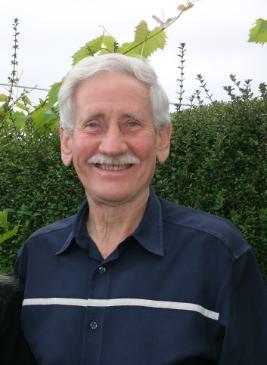 Colin Style was born and brought up in Harare, Zimbabwe. He went to Prince Edward School, and then spent two very enjoyable years at Rhodes University in the 1950s, reading English and History. Rather than complete his degree, however, he decided to go overseas, and spent a year or so in the UK. Later, in 1967, Colin, together with his wife O-lan and their baby daughter Kelda, returned to Grahamstown for a year to continue his degree at Rhodes.
Colin worked for a number of years in marketing and market research, and then with television. He, O-lan and Kelda came to England in 1977. Colin had a three-year contract as Export Market Research Adviser with the British Overseas Trade Board in London. They lived nine years in Kent before making Devon their home in 1986. From 1987 onwards, Colin and O-lan have been researching the history of properties and houses, as well as genealogy.
Colin was first and foremost a gifted writer and poet. Whilst at Rhodes in the 1950s, he won the Rhodes University Poetry Prize. His poems have appeared in a number of anthologies, including Poetry in Rhodesia: 75 Years; A World of Their Own: Southern African Poets of the Seventies; A Century of South African Poetry; A New Book of South African Poetry; Out of the African Ark; Poetry South East 6; and The Oxford Book of Animal Poems.
Colin's poems have also been widely published in journals, including Stand, London Magazine, Country Life, The Countryman, The Cornhill Review, Sewanee Review, Chicago Review, Christian Science Monitor, Ariel, Contrast, New Contrast, New Coin, New Nation and Rhodesian Poetry / Zimbabwean Poetry inter alia.
There are two collections of his verse, Baobab Street (Johannesburg: Bateleur Press, 1977) and Musical Saw (Harare: Mopani Series, 1981). Baobab Street won the Ingrid Jonker Prize for the best published collection in English in Southern Africa, 1977.
Colin also contributed radio scripts, articles and book reviews on humour, art, political and social issues, history, country subjects, literary criticism and literature, to, amongst others, BBC — Radio 3, Radio 4, Africa and World Services; The Listener, London Magazine, Country Life, Country, The Countryman, Devon Life, Dorset Life, Heritage, This England, PN Review, Encounter, Daily Telegraph, Church Times, Financial Times, The Lady, Writers Monthly, The Salisbury Review, The Powys Review, Partisan Review (USA), and Practical Family History (this last with O-lan Style).
Colin had a great love of poetry and literature. He also had an excellent sense of humour. In the months before his death, he was trying to memorise all twenty-nine stanzas of Gray's 'Elegy Written in a Country Churchyard'. Writing in his diary, Colin noted that he recited what he had memorised before he fell asleep because it was 'both soporific and a memory sharpening exercise'!
For all his talent, Colin was very modest, and had no airs or graces. He always put his family first. In fact, his family, past and present, was all of great interest to him. Collecting together memories of his childhood holidays for his grandson's school project gave him considerable pleasure. Investigating the parts played in World War I by his own father and uncle for another such school project affected Colin profoundly because it brought to light their courage and selflessness amidst the sheer horrors of that war (notably Delville Wood).
Colin did much to promote Zimbabwean writing. As well as reviewing books for BBC Africa Service & BBC World Service, he compiled and presented two programmes for BBC Radio --- Dream of Ophir, and 'I Haunt the Sunny Streets', this last being a selection of Zimbabwean Poetry.
Throughout their marriage, Colin and O-lan worked together on various projects. They compiled and co-edited The Mambo Book of Zimbabwean Poetry in English (Gweru: Mambo Press, 1986). It is a collection of traditional and modern Zimbabwean poetry in English and English translation. It is a prescribed text at the University of Zimbabwe and was recommended as a guide to the cultural history of the country by the Zimbabwean government in the 1980s.
Colin and O-lan also co-produced a long-playing disc of readings of Zimbabwean poetry in English, Shona and Ndebele, and launched a poetry magazine, Chirimo.
In 1987, whilst looking out over their Devon cottage nestling in the valley below, Colin was inspired to start Family Faces. Thus began Colin and O-lan's little business of researching the history of properties and houses, as well as genealogy. Colin was an excellent researcher and super to work with. He and O-lan gave seminars, radio talks and wrote articles for journals on researching the history of houses. The publication of their book, House Histories for Beginners (Phillimore, 2006), brought him immense pleasure.
Very sadly, Colin died suddenly and unexpectedly of a heart attack on 22 September 2014. He was most dearly loved by O-lan, Kelda, and his family. He enriched the lives of all who knew him. There have been many lovely tributes paid to him. What stands out was his devotion to his family, his gentleness, kindness and consideration for others, his sensitivity and his great simplicity. He was a highly intelligent and very talented man with a deep love of poetry and literature, and a great sense of humour. He had a fine insight into others as well as himself, and appreciated all 'the kindness and good fortune' he had received in his life. He was indeed a very special man. He will always be remembered.