Noël Estcourt
Noël Sidney Dudley Estcourt
First-Class Cricketer, Rugby Union International and Rhodesian Educationalist
Noël Estcourt, who has died aged 89, was an inspirational educationalist, an international rugby union full-back and a first-class English cricketer.

In the 1950s he left his native Southern Rhodesia (now Zimbabwe) to study for a Master's in English at Corpus Christi College, Cambridge. He was awarded a Blue in cricket and joined Blackheath rugby club's 1st XV. Via Kent, London Counties and Barbarians, he established himself as one of England's leading full-backs, trialling for England in 1954. In March 1955, he gained his first cap, only the second Rhodesian to do so, playing in the Calcutta Cup; a match that England won 9-6.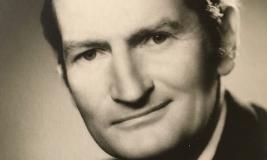 Noël was born in Selukwe, Southern Rhodesia, second son of Basil Estcourt, the General Manager of Ohlsson's brewery in Bulowayo, and his wife, Margaret (nee Parkinson). Raised in Bulawayo, Noël attended REPS and then Plumtree school, near the border with Botswana, and excelled at cricket, rugby, shooting and drama. At Rhodes University, Grahamstown, he took a BA in English and Geography between 1948 – 51, played rugby for the university and for Eastern Province, became Captain of cricket and also played for Combined South African Universities. A gifted actor, with a penchant for Gilbert and Sullivan, he was Chairman of the university's Dramatic Society and supplemented his term-time allowance by 'crooning' in local clubs.

After gaining his Master's in English at Cambridge in 1954, Noël left England and a potential sporting career behind to become Head of English at Chaplin school in Gweru, Rhodesia. His next post was Goromonzi high school, east of Harare, where he became Head of English and ultimately Acting Principal of the school. Southern Rhodesia in the late 1950s was judged by many to have the best education system in Africa, and Goromonzi produced many students who went on to serve as government ministers after independence.

Through promotion, Noël became Principal of Domboshawa Training Centre in 1966, an adult educational establishment emphasising the improvement of rural life, training 3,000 men and women per year and sponsored by the ministries of Education, Health, Agriculture, Local Government and Internal Affairs. Noël initiated "The Chiefs' Course" for tribal leaders, focusing on local governance and the importance of education. With a natural affinity for people, Noël involved himself in the centre's extra-curricular life, routinely undertaking evening rounds on his bicycle, and always taking the chance to talk to its staff and students.
Subsequently Noël was appointed to the Ministry of Education's Head Office in Salisbury (Harare) and in 1978 became Deputy Regional Director of African secondary education for Mashonaland. During this time he was called up to serve with the Police Anti-Terrorist Unit until the cease-fire in December 1979. Noël believed that black rule was long overdue, but that the war could have been avoided, with a more measured handover focused on governance and administration. With post-independence reorganisation and his Devon-born wife's desire to return home, he retired early and settled in the UK in 1981, becoming an assiduous archivist of family history.

Noël was adored by his family and deeply respected by his friends and colleagues. He is survived by his wife, Jennifer (nee Pickwoad), whom he married in 1954, and daughters Frances, Catherine and Hilary. Another daughter, Bryony, predeceased him.
Last Modified: Thu, 22 Mar 2018 09:10:05 SAST