Robert Frederick Ball
Two giants of Nelson Mandela Bay journalism – prolific lensman Sam Majela and columnist Robert Ball – have died within a day of each other.
Family and friends of both newsmen were on Monday paying tribute to their contribution to the media industry over many years of service.
Majela, 57, a member of The Herald's photographic team for over 30 years and a renowned camera-carrying figure in the city, died on Monday, while historian and former managing editor of the newspaper Ball, 77, who also penned the popular Hugh Baakens column for years, died on Sunday.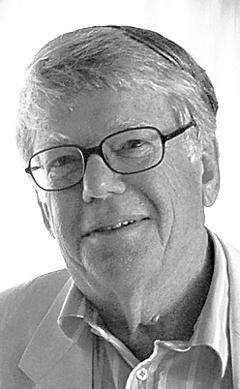 Robert Frederick Ball, gentleman legend of Schoenmakerskop, was an old school journalist whose intelligence and humanity were as much admired as his turn of phrase, his discerning eye for news, his knowledge of both current affairs and history, and his grace under pressure.
Former Herald editor Ric Wilson said Ball had played an invaluable role at the paper during his tenure there.
"He was totally dependable, and skilled in every aspect of running a newspaper.
"The natural warmth of his personality blended his professional expertise with a compassion that made him the goto guy for those with problems and a mentor to many young journalists who trained at The Herald and who today are at the peak of their careers.
"I was amazed at the depth of his local knowledge and the breadth of his interests, not the least of which was his devotion to the church. All these were reflected in entertaining anecdotes and yarns in his muchloved weekly column Hugh Baakens.
"But above all I will remember Robert for his cheerful optimism, that was a daily tonic for all of us at The Herald particularly during the turbulent changing times of the '90s."
Testimonies from other colleagues flooded in. Bobby Cheetham said Ball's compassion had underpinned his journalism, Sicelo Fayo called him "a giant of a gentleman" and Bob Kernohan recalled his attention to accuracy and detail and his passion for the British royal family "all the way down to his brown brogues".
Ball went to school at Woodridge and St Andrew's before studying at Rhodes University.
He worked during his university holidays at The Herald, joined the paper after graduation and then spent the rest of his career there except for a stint at the Cape Times.
Among his many passions was the Order of St John and his work for the community healthcare organisation was honoured when the library at Stella Londt, the order's Port Elizabeth headquarters, was named after him.
In 2003, Ball became an officer of the order.
Patrick Ball said his brother had been a colourful character and an excellent mimic.
"He would call our bluff by making as if he was speaking French or German. He enjoyed singing at the top of his voice."
Schoenies resident Robert Gooseman said Ball had hosted sumptuous dinner parties at his family home Stonehenge and had loved the village in which he lived.
"He was an interested and interesting person, the soul of the party."
Another Schoenies resident, Therese Boulle, said he had been a brilliant raconteur.
"We will always remember seeing him walking with his little dog. He was a legend in Schoenmakerskop."
Ball died at Sun Garden Hospice in Pretoria early on Sunday morning, after a long illness. He leaves behind brothers Patrick and Andrew Ball and sisters Elizabeth Mahoney and Bridgette Dyer-Smith.
The family held a funeral service for Ball in Pretoria on Monday and on February 16 they would be scattering his ashes at Schoenmakerskop.
Majela died at Dora Nginza Hospital where he was admitted on Saturday with complications from diabetes.
Family and friends expressed shock following his sudden death.
Xolani Siqwana said he had worked as Majela's driver for five years while he was working for The Herald and Weekend Post at Newspaper House.
"On Friday, Majela visited me. There was no sign that he would die a few days after his 57th birthday. I am still in shock. He was dedicated and very conscious of punctuality."
Attorney Mpumelelo Bond Nyoka said he had come to known Majela during turbulent times when Majela was taking pictures at courts many years ago.
He said the photographer was a humble, diligent and fearless character.
"He was often attacked in courts by those who protested against him taking their pictures but Majela took that risk with a smile on his face.
"He did his work without glamour. He was a servant of the people through his profession.
"Recently, he told me a story of how someone threw hot tea on him while covering a story.
"What a beautiful soul. He made an indelible mark. We will miss him," Nyoka said.
Attorney Kuban Chetty also sent his condolences to Majela's family.
"He did not have the easiest job but he handled it with a gentle smile."
The family said they would be announcing details of the funeral soon.
Source: https://www.heraldlive.co.za/news/2019-01-29-final-deadline-for-two-giants-of-bay-journalism/
Last Modified: Wed, 30 Jan 2019 09:42:56 SAST