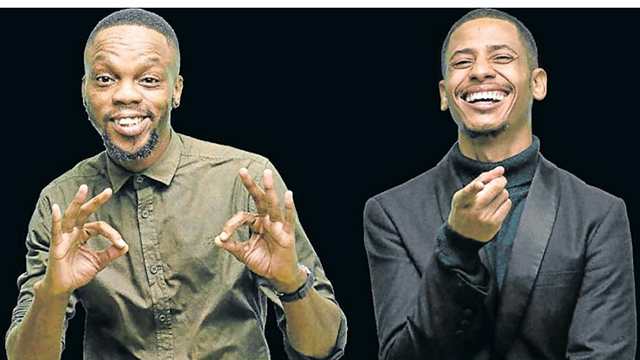 Two East London-born comedians have been handpicked by Trevor Noah to feature in his first Showmax series titled Trevor Noah presents NationWild.
Mbu Msongelwa and Old Rhodian, Virgil Prins were selected to feature in Noah's 13-part, 23-minute comedy showcase, where each episode presents one of South Africa's funniest comedians – as picked by Noah.
The show will air for the first time on Heritage Day, Monday, September 24.
Each episode of the series will feature a short introductory set by Noah as the host, an interview with the featured comedian about their ladder to success, followed by that comedian's set.
In an interview with the Daily Dispatch, the comedians described their journeys leading to this exciting project as "a beautiful struggle".
The two are no strangers to the comedy industry, with 12 years of full-time comedy between them.
Msongelwa was born in Mdantsane and grew up in Port Elizabeth, and Prins was born and bred in Buffalo Flats. They are based in Johannesburg.
Msongelwa said, coincidentally, they were together when they got the call that they'd be featured on the NationWild series.
We were driving down to Eastern Cape when we got the news, and that's when the excitement kicked in. When you've dreamt about something and it finally happens, you're not shocked, just grateful," he said.
Prins said he believed the new series would be a firm favourite with the South African crowd.
"Trevor's given us a once-in-a lifetime opportunity and we're gonna use it to build ourselves further."
Msongelwa, 36, a self-taught comedian, said his struggles building his comedy profile locally prepared him for the life of comedy in Joburg.
"I went into comedy fulltime at 27, which is a bit late for some, but when the comedy bug bites you it's hard to let go. I've been at it since 2009 and the fruits are starting to bear."
For Prins, a 2016 Comics Choice Breakthrough Comic Award winner, the comedy bug bit while he was completing his BCom Law degree at Rhodes University.
After completing his studies, he moved to Johannesburg to continue pursuing comedy and has never looked back.
He said comedy could best be described as a marathon and not a sprint.
Source: https://www.dispatchlive.co.za/lifestyle/2018-09-19-el-born-comics-embrace-chance-to-shine-with-trevor/
Please help us to raise funds so that we can give all our students a chance to access online teaching and learning. Covid-19 has disrupted our students' education. Don't let the digital divide put their future at risk. Visit www.ru.ac.za/rucoronavirusgateway to donate