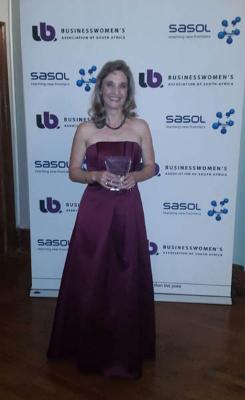 Galbraith Named Cape Town Business Woman Achievers Award winner in the Professional Category
Jeneen Galbraith has made mentorship her mandate. Not only did this mother of four build her business from scratch in seven short years with an astounding 3,000 clients, her company boasts 30% growth year on year. Meet the determined Chartered Accountant who believes in the value of growing a team of motivated individuals through developing their potential.
As a 50 percent partner in Galbraith Rushby, a firm offering accounting, taxation, consulting and other advisory services, Galbraith has seen her firm grow from its humble beginnings in the basement of her house with one employee to purchasing an office in Woodstock and now accommodating some 38 employees.
The Chartered Accountant and Registered Auditor is no stranger to hard work. In fact, not only is she a qualified Chartered Accountant and a Chartered Management Accountant (CMA), but during her final year at Rhodes University she took home all the gold medals for auditing, accounting and taxation. This was the first time this had been achieved by a woman at the university.
Before starting her firm in 2008, Galbraith enjoyed a successful career in accounting. The self-starter has been fortunate to have had the opportunity to develop a well-rounded skill from a career path spanning corporate finance, auditing and taxation and has worked internationally. She began her career at Coopers & Lybrand in 1994, and quickly climbed the ladder from a trainee to their audit supervisor in their London office within four years. Then she seconded to GlaxoSmithKline plc as a Senior Financial Analyst before coming back to South Africa.
Galbraith attributes the growth of the firm's client base to the service they provide to their clients, albeit large or small. "Our growth is due mainly to our existing clients who recommend us by word of mouth to new clients," she shares. In addition to managing a successful business Galbraith is a dedicated wife and mother to four children, one of whom is a special needs child. "Every day is filled with dealing with clients financial needs, reviewing staff work, training staff, overseeing internal administration, emails, phone calls and then attending to my families needs at home, which involve changing nappies, bathing, homework and helping the children practise piano and cello," she explains.
"When I started by business in 2008, I did not have any capital to start with but built the business from the ground up by working hard and I was committed to delivering an excellent service but at a reasonable price," she elucidates. Dedicated to mentorship and training, Galbraith makes a point of following a proactive training approach and has personally trained many of her staff, some of whom have grown with her company from the early days. The company also offers learnership programmes, which enable staff to become Chartered Accountants. "This approach requires patience, commitment and time. I sit with them at their desks and work with them. This is very different from most traditional accounting firms, where staff only get to deal with the partners in a very limited way."
In terms of social responsibility, the firm provides pro-bono accounting services to a number of non-profit organisations, such as, The Property Foundation of South Africa as well as the Down Syndrome Inclusive Education Non-profit organisation. Additionally, we provide reduced fees to other organisations such as "5 for change NPC" and others. In addition to her 38 staff members, her firm also outsources work to a number of independent bookkeepers who work from their homes. "This particularly assists those who are single mom's and need to be available for their children," she says.
Leadership Lesson
I truly believe in the value of building your team and giving them the tools to reach their full potential. I truly believe that building a team of exceptional people is key to our success and take pride in the enthusiasm, motivation and focus of each and every employee at Galbraith Rushby.
Source: http://www.thecallsheet.co.za/galbraith-named-cape-town-business-woman-achievers-award-winner-in-the-professional-category/
Source: http://www.thecallsheet.co.za/galbraith-named-cape-town-business-woman-achievers-award-winner-in-the-professional-category/
Please help us to raise funds so that we can give all our students a chance to access online teaching and learning. Covid-19 has disrupted our students' education. Don't let the digital divide put their future at risk. Visit www.ru.ac.za/rucoronavirusgateway to donate