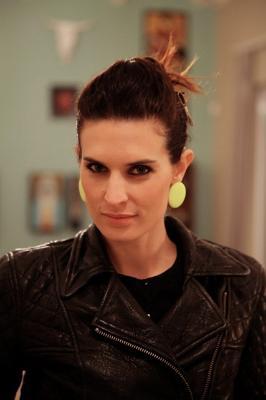 The 5FM team would like to welcome one of their own back into the fold, as former Marketing Manager Justine Cullinan returned to SA's youthful station this week to take on leadership of the award-winning station.
The station has been without a Station Manager since the departure of Aisha Mohammed earlier this year, when she left to head up programming at SABC3. Justine, former Marketing Manager at 5FM, is excited at the prospect of taking the station to new heights.
"I should have heeded the words of my PCS GE, Mr Leslie Ntloko, more carefully upon my first departure from the SABC in 2012. He said to me that I would be back, that the SABC is like a relationship you can't shake. I would go further to say that working at 5FM is an honour. It is not a job, it's a relationship that I am in the midst of heart and soul. The power of five has never quite left me, even during the last two years that I have not worked for the brand," Justine says.
Leuba Ramakgolo, General Manager of PCS, says they are elated that Justine is re-joining as the Station Manager, saying she will lead and guide the operations of this premium brand.
"She joins the team of highly motivated and creative staff members who will work hard to realise the station's objectives. We are confident that she brings with herself the much required energy and enthusiasm to the organization. Her experience in management will contribute greatly towards meeting the station's mandate in the highly competitive radio landscape," Leuba says.
Justine, who holds an Honours Degree in Journalism and Media Studies from Rhodes University where she graduated Cum Laude in 2005, started in the entertainment media industry as a PR specialist, script writer and casting director for John Vlismas. She honed her PR skills working with agencies like Red Cube Agency and Hello World.
It was in 2008 when she landed the coveted job as Marketing Manager for 5FM after a grueling interview process. During her four year tenure, the station enjoyed a listenership increase from 1.65 Million to over 2.3 Million at the beginning of 2012.
Justine doubled the size of the 5FM marketing team, lead the Turnaround Strategy Workstream on Trade Exchanges for all radio marketing and delivering record-breaking programming and digital campaigns during the FIFA 2010 World Cup. She also launched and produced the first completely integrated Radio and TV campaign for 5FM – TV to the Power of 5 – which ran for two seasons on SABC 3.
In May 2012, she left the station to take on the role of Marketing Executive at Skye Distribution, where she managed 10 brands including five international brands – Converse, Dickies, Nike SB and Jordan Kidswear and Lyle and Scott.
"Over the last year 5FM has experienced some challenges regarding a loss of audience share and a changing revenue model. These are not new challenges to a station that has weathered change with pride and gumption over the last 40 years. I look forward to meeting these challenges head on with the support of a powerful team who come to work every day to deliver entertaining content to South Africa's youthful audiences," Justine says.
She adds that it is always exciting to work in a radio environment, one that she enjoys immensely. "I will be focusing on supporting my programming team, producers and DJs to ensure they are doing everything they can to deliver the best in radio content. I will be working closely with my marketing team to ensure we hold up the guiding light of the brand's core purpose and reason for being and that this is understood and loved by our loyal and fun fan-base. I will also be bringing the last two years of my very commercial brand experience to our sales team to deliver 5FM's commercial mandate to the SABC by creating exciting hybrid advertising, sponsorship and promotion campaigns for clients and brands across the product and service spectrum."
Source: www.5fm.co.za
Please help us to raise funds so that we can give all our students a chance to access online teaching and learning. Covid-19 has disrupted our students' education. Don't let the digital divide put their future at risk. Visit www.ru.ac.za/rucoronavirusgateway to donate