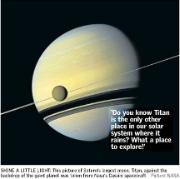 LIAM Pedersen spent much of his childhood with no electricity, plumbing or books.
Now he is building space exploration robots for Nasa in the search for life beyond our planet.
Born in Cape Town and educated at Rhodes University, Pedersen, 42, is leading the development of a robot that could one day float on the gas oceans of Saturn's largest moon, Titan.
He is also credited with pioneering the decisionmaking part of the "brain" used in the robotic rovers now on Mars.
"Actually, I've just got back from a month in Chile, camping high in the Andes, where we were field-testing the prototype for Titan," said Pedersen.
"Do you know Titan is the only other place in our solar system where it rains? What a place to explore!"
Nasa sends Pedersen and his "intelligent" rovers to the world's most extreme places, from Antarctica to the driest deserts, to see whether they can spot rare signs of life before sending them on the real quest for extraterrestrial life.
In 1999 his rover Nomad became the first robot to successfully locate a meteorite in the Antarctic "and it did it all on its own".
The US-based father of two has even field-tested his own body by sealing himself in a tiny desert "habitat" in the state of Utah to learn what it must be like to live on Mars.
Dr Maarten Sierhuis, a senior scientist at Nasa's intelligent systems division, told the Sunday Times that Pedersen had emerged as a pioneer in "autonomous navigation for robots on distant planets".
"Liam leads this effort for Nasa's future robots that will explore planets together with people," he said. "For him, it [really is] about going where no man has gone before and making it work [and] he approaches every challenge with the excitement of a child."
Pedersen is convinced that robots will be the first to discover microscopic life elsewhere in the solar system, "like the microbes we find buried deep in the ice on Earth or deep in the mines of South Africa".
This was partly because it was safer and cheaper to send robots than astronauts.
He has one of the most unlikely backgrounds imaginable for a Nasa scientist.
Travelling from the age of three with his South African mother, Charlotte, a teacher, he grew up with a village tribe in the jungles of Colombia and "preferred fishing from a dugout over anything to do with school".
He missed more than a year of school and could not read by the age of eight.
Although his family settled in Grahamstown, he attended the Waterford Kamhlaba boarding school in Swaziland. It was there that he began tinkering with electronics.
He said "great teachers" at Rhodes University made his unlikely journey to Nasa possible, including one who refused to allow him to drop his computer science course.
"The reality is that I do more computer programming than anything else. Even my kids have a sense that I work on the space station and wield light sabres, when mostly I'm just reading and thinking about things."
He won a Fullbright scholarship and left South Africa in 1992 when he landed a robotics research post at Carnegie Mellon University in Pittsburgh, Pennsylvania, the US.
Although he has a parent's pride about his gadgets, he said anyone who watched science-fiction movies would be "pretty disappointed" with his robot's skills. "It's very hard to programme robots to understand cause and effect. Space robots are even less intelligent, as [we] have to use old computers that can tolerate the radiation of space."
For humans, it was simple to learn that water would fall out if you turned over a glass, but it required a mountain of maths and technology to teach a robot to understand it.
His space robots have to be supremely reliable, "because you can't send someone to fix it if even the smallest thing breaks".
Last year, Pedersen joined the board of a US-based South African business networking group, the Sable Accelerator. He said he remained in the close contact with South African scientists, who kept him grounded. "It seems to be a quality among South Africans that they won't let you grow too big for your boots."
Asked which individual globally was leading the field in space exploration, his answer was another South African.
"In my opinion, [space rocket entrepreneur] Elon Musk is single-handedly doing more for space exploration than anyone else."
Sunday Times Newspaper
By Rowan Philp
Source: Sunday Times
Please help us to raise funds so that we can give all our students a chance to access online teaching and learning. Covid-19 has disrupted our students' education. Don't let the digital divide put their future at risk. Visit www.ru.ac.za/rucoronavirusgateway to donate