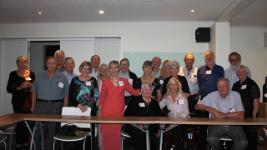 Celebrating 50 years after graduating with their Bachelor of Pharmacy degree from Rhodes University, the Pharmacy class of 1969 held a special reunion weekend in Cape Town on the weekend of the 5th April.
One of the class members, Melanie Sandler, who now lives in the United States; started with the mammoth task of tracking alumni down for the big weekend. Other members, Steve Bardwell and "Shake" Jeremy Seigel assisted with the logistics for the weekend that resulted in a group of 20 meeting on Friday night for an informal gathering at the Cape Town's V&A Waterfront. This became a glorious night of glitz, smiles and hugs as some of the group had not seen each other since graduation.
On Saturday evening, Emeritus Professor Isadore Kanfer from the Faculty of Pharmacy at Rhodes University and Honorary Professor, KLE University Belgaum, India, joined the group for Dinner at the Durbanville Hills Restaurant to reminisce further about the good old days. Prof Kanfer was busy with his PhD in 1969 and had lectured the class and it did not take long before conversation was flowing with a few stories being told.
Attendees: Irene Irvine, Dennis Wiener, Brian Irvine (Pharmacy), Mike Moroney, Charlotte Wiener (Pharmacy), 'Shake' Jeremy Siegel (Pharmacy), Shirley Seigel (BA), Yolanda Moroney (Pharmacy), John Sandler, Lila von Maltitz (Pharmacy) (front), Margie Shone (Pharmacy) (back), Eugene von Maltitz (Pharmacy), Patty Ellenberger, Jane Meaker (Pharmacy) (front), Melanie Sandler (Pharmacy) (back hands on Jane), Martin Ellenberger (Pharmacy), Steve Bardwell (Pharmacy), Bill Meaker (Theology), Prof Izzy Kanfer (Pharmacy), Colleen Bardwell (BA).
On Sunday, 7th April, the group met at The Spice Route in Paarl. Firm reconnections and friendships renewed, it was almost as if the 50 years since graduating from Rhodes University had not passed at all.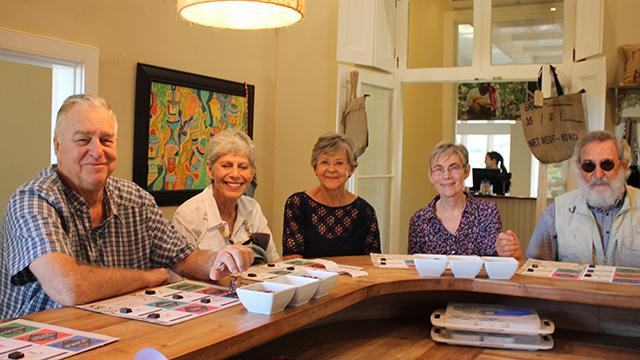 Chocolate Tasting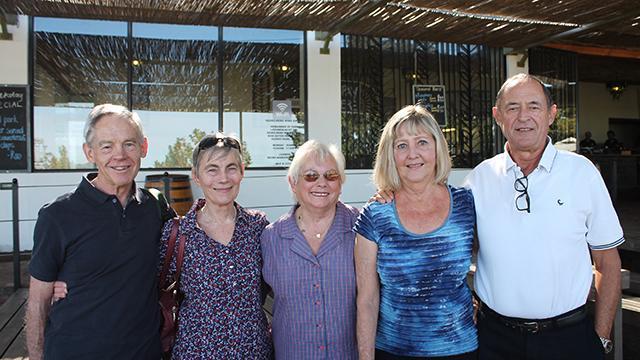 Spice Route
Prof Kanfer shared a Brief History of the Faculty of Pharmacy at Rhodes University and put together slides of pictures to show the passing years.
A Brief History of the Faculty of Pharmacy at Rhodes University
To view the pictures of the weekend please click here