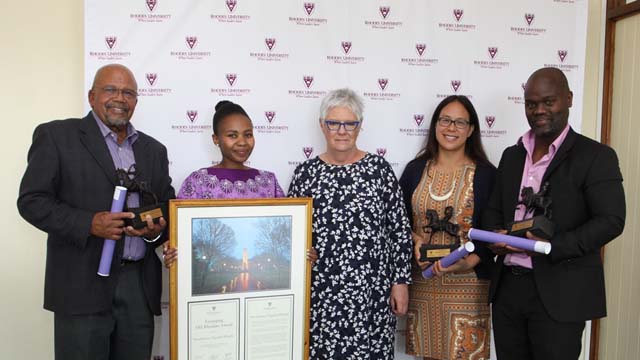 Rhodes University honoured some of its illustrious alumni who were presented with the 2016 Distinguished and Emerging Old Rhodian Award at a luncheon that was hosted at the University on Saturday, 27 August 2016 in Grahamstown.
Divided into two categories - the Distinguished Old Rhodian and the Emerging Old Rhodian Awards, the accolades aim to honour old Rhodians who, through their individual actions, achievements and selfless service to humankind, have enhanced the reputation of the University. It is intended to acknowledge the recipients as outstanding role models for current and future generations. The criteria for consideration for the awards are that the recipient should personify the attributes that Rhodes seeks to cultivate in a leader. They should also have actively promoted the University among students, parents, alumni, the general public and prospective donors and also have demonstrated their support for the University.
The four recipients of the Distinguished Old Rhodian Award are Honourable Justice Lex Mpati, Ms Tanya Accone, Mr Mbusowemvelo (Mbuso) Mtshali and Ms Caroline Rowland, while the Emerging Old Rhodian Award will be presented to Ms Nombuso Hlope and Mr Sherwin Bryce-Pease.
From petrol attendant and bartender to President of the Supreme Court of Appeal and Chancellor of Rhodes University – the remarkable story of Honourable Justice Lex Mpati will come full circle when he is awarded the Distinguished Old Rhodian Award this weekend.
Judge Mpati's dream of studying law started when he was arrested for illegally operating a taxi service at the Grahamstown railway station in 1968. He was given an option to pay a fine or go to court and he chose the latter, where he successfully defended himself. He managed to enrol at Rhodes under the special permit required for black students then and began his law degree in 1979 at the age of 30. In 1984 he received his LLB, becoming the second black Rhodes' LLB graduate. In Rhodes' 2004 Centenary year, he was recognised with a Doctor of Laws (honoris causa) degree. In 2008 he became the first Rhodes' Law alumnus to hold the position of President of the Supreme Court of Appeal. He was appointed Chancellor of Rhodes University in 2013.
Another recipient of the Distinguished Old Rhodian Award is Mbuso Mtshali, who completed his LLB at Rhodes University in 1992. He is now Company Secretary and Head of Legal and Compliance at Sanlam Investments. He also serves on the Board of Directors at Simeka Consultants & Actuaries, a member of the Sanlam group. Mtshali is passionate about his alma mater and as a direct result of the long-standing relationships formed at Rhodes, he and fellow law alumni started a Law bursary fund to which they contribute annually. The first recipient of this fund recently graduated from Rhodes University.
Tanya Accone completed her Bachelor of Journalism degree in 1993 at Rhodes and was a high-achieving student. She received more than a dozen academic awards which culminated in a Fulbright Scholarship that enabled her to continue her studies in the United States. She holds an MA in Public Communication from American University in Washington. Accone is now Senior Advisor on Innovation and the Deputy of UNICEF's Global Innovation Centre. She has been a staunch supporter of Rhodes throughout her career and has served as a trustee on The Rhodes University Trust (USA) since 2003. She has made a specific effort to raise awareness and funds to support previously disadvantaged students in the Eastern Cape to make a successful transition from high school to university.
Last but not least to receive the Distinguished Old Rhodian Award this year is Caroline Rowland, who was born in the UK but grew up in South Africa. She completed her BA and BA Honours degrees at Rhodes University in 1992 before relocating back to the UK. She is a trustee of the Rhodes UK Trust, and contributes her time and experience to helping create education and employment opportunities for students. Rowland has also organised UK Reunions, and taken an active role in fundraising by encouraging UK Alumni to give back to their alma mater.
The Emerging Old Rhodian Award aims to recognise Old Rhodians under the age of 40 who have excelled early on in their careers and have shown potential for continued success. This year's recipients of the award are Nondumiso Hlope and Sherwin Bryce-Pease.
Nondumiso Hlope completed her postgraduate studies in Political and International Studies at honours level at Rhodes in 2009 concentrating on International Relations. She has been a 'One Young World' Ambassador for Swaziland and is the founding curator of the Mbabane Hub of the Global Shapers Community, which is a World Economic Forum initiative.
Born in East London, Sherwin Bryce-Pease graduated from Rhodes with a Bachelor of Journalism degree in 2000. He is currently the SABC's UN Bureau Chief and is based at the United Nations headquarters. He reports on U.S. and UN politics, including the U.N. Security Council. He is also a trustee of the USA Rhodes University Trust that helps to secure funds in the USA for underprivileged students. Over the years he has personally donated generously towards Rhodes' bursary funds.
"Every single one of the Old Rhodian Award recipients symbolises the values of Rhodes University as a leading institution of higher learning. These men and women are a true embodiment of our motto 'where leaders learn'. We are truly honoured that they have heeded our call to them to further embrace what their alma mater stands for and to fly our flag with great honour and distinction in their respective areas of endeavour," said Dr Sizwe Mabizela, Vice –Chancellor of Rhodes University.
Source: Communications
Please help us to raise funds so that we can give all our students a chance to access online teaching and learning. Covid-19 has disrupted our students' education. Don't let the digital divide put their future at risk. Visit www.ru.ac.za/rucoronavirusgateway to donate