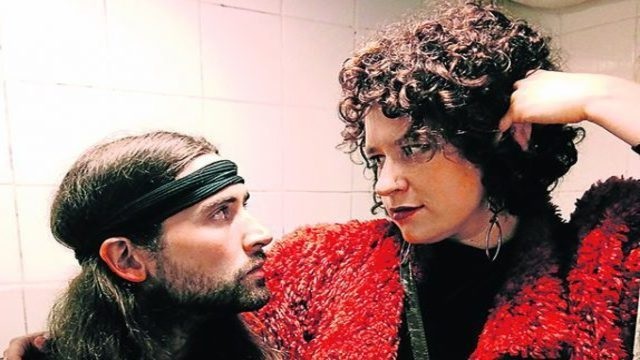 After matriculating from Stirling High School he graduated from Rhodes University with a drama degree and now up-and-coming actor Ryan de Villiers, 24, is appearing in a fresh new play at the National Arts Festival in Grahamstown called jack and jill.Can you remember the moment you knew you wanted to be an actor?
I've always liked the idea of performing, ever since I can remember. I thought I was going to be a famous singer, until my voice broke. I guess it was when I started watching plays in high school, that I knew I wanted to be up there making people feel the same emotion as I was getting.
Did you jump onto the audition circuit the moment you graduated from Rhodes?
After graduating I wanted a little break from the world I knew so I went to India on a quick Eat, Pray, Love journey and did a yoga teacher training course there. But when I returned to Cape Town after six weeks, I started auditioning immediately.
What work have you done since?
I've been in a few commercials and been featured in a local film as well as an international series. I've also been in two theatre productions and am busy with my third, jack and jill. But without a doubt, this work does not always pay the bills and there are often gaps where you might find yourself twiddling your thumbs. So I've worked as a waiter (classic), a yoga instructor, a masseuse, and even an English tutor in Italy for a few months.
Besides Jack in your latest play, what has your stand-out role been this year and what made it special?
This year I was very fortunate to work with the physical theatre company, FTH:K. I worked with two amazing women, co-performer Thalia Laric and director Jayne Batzofin, and together we created a piece in sign language for deaf and hearing impaired foundation phase children. I got to learn some sign language and learnt about the importance of having theatre in everyone's home language.
Why did you choose to premier jack and jill at the NAF?
Kate Pinchuck (Jill), director Ester van der Walt, and I all studied in Grahamstown and have performed in the festival before. It's therefore a festival that's familiar to us and close to a home we once shared together. We also saw it as a good platform to premier a piece as it is the biggest arts festival in the country and attracts some of the country's best artists.
What is the play about and who wrote it?
Simply put, it's about love, life and art. But the characters are far from simple. It's about two Cape Town-based millennial artists who live their lives as if they are being watched through a camera lens or read about in a romantic novel. They fear boredom and being boring, so they try very hard to make their lives interesting, even if that means suffering for their art. They, like Van Gogh, "would rather die of passion than of boredom". It was written by Kate Pinchuck and I contributed to the script.
Who will the play appeal to?
The play will definitely appeal to millennials. Anyone over 16 really. Kate has incorporated a lot of relevant material in the piece that everyone can relate to and laugh about as well.
How many shows will you be doing at the festival?
We'll be doing six shows at the festival (July 1, 2, 3, 4, 7 and 8)
What kind of response are you hoping for in Grahamstown?
We are hoping that people will pull through this year. There's always talk that the attendance has not been as good as people have hoped which is so sad. It's really a one-of-a kind festival. To have our National Arts Festival in a picturesque Eastern Cape dorpie is such an honour, so I really do urge Eastern Cape residents to put in the effort to go and see some quality theatre (don't just go to the markets – go and see beautiful creations).
What are your plans after jack and jill?
We are planning on touring jack and jill after Grahamstown. Besides that, Kate and I have also started on a web series that we hope to launch soon. I also have some short film and other theatre projects that I'm looking forward to developing.
ljack and jill is on at the Masonic Front from Saturday until next Saturday. Tickets cost R50. — barbarah@dispatch.co.za
By Barbara Hollands
http://www.dispatchlive.co.za/news/2017/06/29/taking-jack-jill-appealing-terrain/
Source: Alumni Relations
Please help us to raise funds so that we can give all our students a chance to access online teaching and learning. Covid-19 has disrupted our students' education. Don't let the digital divide put their future at risk. Visit www.ru.ac.za/rucoronavirusgateway to donate