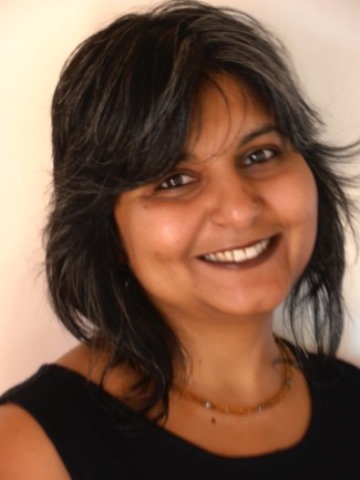 Sarita was invited to contribute to a Commonwealth Writers anthology of African Creative Non-Fiction. Her contribution, "Border Crossings", reflects on a childhood growing up under apartheid in the context of the anti-apartheid struggle in Cape Town, engaging with race, gender, sexuality, class and formative journeys and encounters into adulthood. Safe House: An Anthology of Creative Non-Fiction had its South Africa launch at the Open Book Festival in Cape Town, in late 2016
Sarita Ranchod is a research and international development practitioner with an overarching interest in understanding processes of social change and power and runs an International Development Practice, called Under the Rainbow – Creative Strategies for Positive Change (www.undertherainbow.org.za), together with Sonja Boezak.
Most of Sarita's work engages with women's and girls' rights. Over the last few years she was working with Unicef's Geneva Regional Office covering Central and Eastern Europe and the Commonwealth of Independent States -- a region comprising 22 countries.
The work related to assessing Unicef country office capacities to implement its ambitious global Gender Action Plan, developing a regional strategy for achieving gender equality, and strengthening Unicef staff and partner (government and civil society) capacities to implement programmes that deliver gender equality results. The kinds of issues they were dealing with included practices of child marriage, sex-selective abortion (people abort girl foetuses in favour of boys), violence against women and children, and ensuring girls' school completion, as many girls are withdrawn from school upon reaching puberty for a range of reasons.
Part of this work with Unicef included visiting conflict-affected Turkey-Syria border towns to assess efforts to create safe spaces for girls (refugees) and to engage with the practice of child marriage in refugee communities. Families marry off their girl children for economic survival and children are missing several years of schooling because of the war.
Sarita is currently working with the Other Foundation, editing 10 southern African country studies on the status of LGBTI human rights, which will be published in book form. She is also in discussions about writing a book on women's roles in South Africa's liberation movements.
The links below are to sites where the book can be ordered/downloaded:
https://www.amazon.com/Safe-House-Explorations-Nonfiction-Commonwealth/dp/1459735471
https://www.whsmith.co.uk/products/safe-house-explorations-in-creative-nonfiction/9781911115168
Source: Under the Rainbow
Please help us to raise funds so that we can give all our students a chance to access online teaching and learning. Covid-19 has disrupted our students' education. Don't let the digital divide put their future at risk. Visit www.ru.ac.za/rucoronavirusgateway to donate