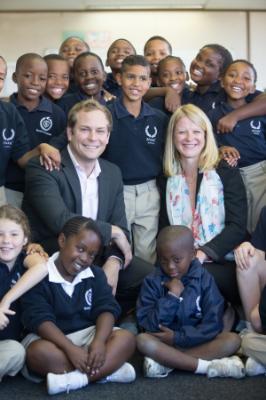 The children of South Africa deserve an education that best serves their needs without any compromise. SPARK Schools aims to provide a model that is affordable to the country and produces internationally competitive scholars.
The state of South African education is stark, with South Africa consistently ranked among the worst performing education systems in the world. While pursuing an MBA at Gordon Institute of Business Science, SPARK Schools co-founders Stacey Brewer and Ryan Harrison decided that, instead of waiting for others to create the change in education, it was up to them to do so. Ryan and Stacey wanted to create schools where they would be proud and confident enough to send their own children. Although Ryan and Stacey did not have experience in the education sector, they believed that their fresh approach to education combined with their business acumen would offer a sustainable, high quality solution to the education crisis in South Africa. SPARK was born, with a mission to provide access to high quality education for all South Africans through the accessibility of affordable education.
SPARK Schools is a network of primary schools dedicated to delivering accessible, high quality education. SPARK Ferndale, the first school in the SPARK Schools network, opened in 2013, and achieved tremendous academic results in its first year of operation. Following on this success, the SPARK team opened SPARK Cresta in 2014, SPARK Maboneng and SPARK Bramley in 2015, and is opening 4 new schools in Gauteng and the Western Cape in 2016.
South African parents deserve better educational opportunities for their children. So, we're not stopping in Johannesburg– SPARK is spreading to cities and communities across South Africa to ensure that all South African children have access to a world-leading education.
Source: https://www.sparkschools.co.za/what-makes-us-unique/our-story/
Source: https://www.sparkschools.co.za/what-makes-us-unique/our-story/
Please help us to raise funds so that we can give all our students a chance to access online teaching and learning. Covid-19 has disrupted our students' education. Don't let the digital divide put their future at risk. Visit www.ru.ac.za/rucoronavirusgateway to donate