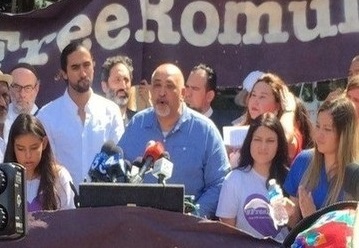 School Principal, St Claire Adriaan of Academia Avance, a charter school in Highland Park in Los Angeles speaks out on the arrest of Romulo Avelica-Gonzales who was arrested by federal immigration officials while dropping off his daughters at school. At a rally in support of Avelica-Gonzalez, St Claire Adriaan said "My job as a school principal is to make sure that our kids are safe, our kids can learn, and our kids succeed. ICE, why are you hurting our kids? Why are you breaking up our families? On August 14, it will be Fatima's first day of high school. She needs her dad. Her dad needs to be there with her when she starts high school, like any other parent in this country." Arrested in February 2017, Avelica-Gonzalez's lawyers filed for an emergency stay of removal with the U.S. 9th Circuit Court of Appeals in the hopes of preventing immediate deportation. The L.A. Times reports that the stay was reviewed and dismissed by the court in June and that it expired in August. The expiration of the stay means that he could be deported. Originally from Nayarit, Mexico, Avelica-Gonzalez has lived in the United States for more than half his life. His four daughters are U.S. born citizens. Family and friends describe him as a hardworking, upstanding citizen.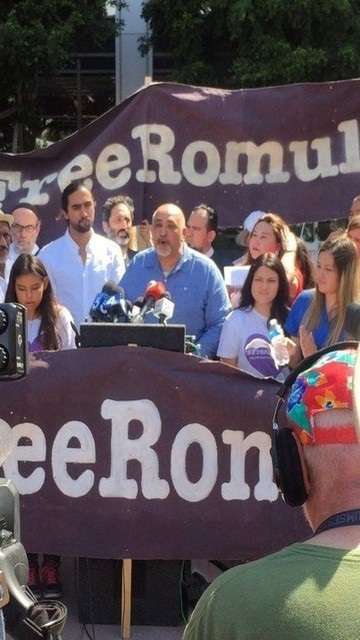 St Claire Adriaan, who has been recognized for his teaching and expertise in education in the U.S., presented a workshop in South Africa to teachers and principals at three Helenvale schools last year in September. Entitled, 'Teaching with Poverty in Mind', St Claire believes that teachers need to change their approach and explore new methods to rescue pupils from the social ill they are faced with daily in their communities. "Our children need someone to believe in them. Their teacher should be the one person who never gives up on them. School could be the one place where no one is hurting them, where no one is screaming at them. We need to give our learners respect to gain their respect. Building that relationship is the key factor."
St Claire was born and raised in Bethelsdorp and attended Bethelsdorp High bebore studying teaching at Dower College, the former UPE and Rhodes University. As part of the New Schools for New Orleans campaign, teachers from the Charter School System were sent to assist in the opening of new schools following Hurricane Katrina. The school he was sent to was 56th based on the students' test results, out of 56 schools in New Orleans. "It was located in the poverty stricken Seventh Ward in New Orleans and the situation is similar to the northern areas, with gangs, a high murder rate, poverty and other societal issues", he said. "The kids seemed as if they did not want to learn, as if they did not care. We could have 24 fights a day. But we managed to turn things around and three years later it was named one of the top 10 performing schools in Louisiana". He said he had started a strategy of taking an active interest in the pupils. "Teachers were often the last resistance standing between a child and a life of crime and unemployment. If we push our children out of the classroom and out of school, we are pushing them towards a life of gangsterism and jail. In new Orleans we started our day at 7:30am and ended at 5pm. From 5pm to 6:30pm we had an after-school programme…to keep our children off the streets for as long as possible." St Claire, believes that every child deserves a champion. "Kids may forget your name or your face but they will never forget how you made them feel."
Source:
https://www.pressreader.com/south-africa/the-herald-south-africa/20160916/281711204112082
http://laist.com/2017/08/01/romulo_august.php
Source: Alumni Relations
Please help us to raise funds so that we can give all our students a chance to access online teaching and learning. Covid-19 has disrupted our students' education. Don't let the digital divide put their future at risk. Visit www.ru.ac.za/rucoronavirusgateway to donate