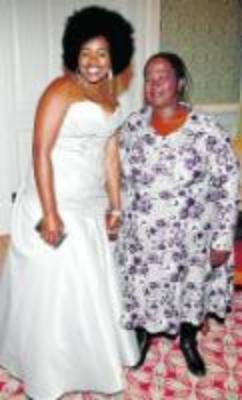 MOTHERWELL-born Thina Maqubela has proved that success has nothing to do with where one comes from, winning a regional businesswomen's award last week. She's achieved this while working on her PhD in statistics education at Rhodes University.
She was crowned among the top achievers at the annual Business women's Association (BWA) Regional Achievers Awards last week.
At 24, Maqubela was the youngest of 18 finalists and her outstanding work as the coordinator of the Future Leaders Programme (FLP), at Zwide's Ubuntu Education Fund, saw her take home the stellar statue in the social entrepreneur category.
Asked about her win Maqubela said: "I feel very honoured to have been part of the awards. It really shows that the world has unlimited opportunities. I have learned so much from all the other finalists."
A third-born in a family of four, Maqubela was raised by a single mother, who sells fruit and vegetables at the Motherwell Shopping Centre.
Her mother Khanyiswa could not hold back her tears at an interview last week. "I have been numb since last night [last week Thursday] – Thina has done us all very proud. I could not believe my ears when her name was announced. It was as if I was in a trance of some sorts, I saw my baby jump up and down with excitement.
"Patience, hope and prayer is all I have lived by, while raising my four children alone," she said
While at university she volunteered as a maths tutor in disadvantaged schools in Khayelitsha and a rural part of the United States called Keyser. There she created extracurricular activities that used puzzles and games such as Sudoku to improve pupils' numeracy.
She has also worked as an intern at Ubuntu's education department in the past, where she tutored mathematics and computer skills.
FLP is a project dear to her heart, which she started last year, on her return to the country after graduating with a masters in Statistics from West Virginia University in the US.
Through the programme, Maqubela and her team provide career guidance, academic and social support as well as experiential learning opportunities to secondary school pupils who come from disadvantaged backgrounds as herself.
"I realised there was not enough exposure to information for youngsters in the township when it comes to university related matters such as how to go about applying for bursaries and what will be expect from them."
Maqubela said the challenges she had experienced while studying for her statistics degree at the University of Cape Town (UCT) had been among the factors that led to the inception of Future Leaders.
"There were so many things I wished someone had told me before I started my undergrad. The reality is that kids from the township are not exposed to most resources," the former Newell High School pupil said.
Although Maqubela has since left Ubuntu Education Fund as a full-time employee earlier this year, and is now a first-year statistics (theory of finance) lecturer at Rhodes University, she said she still regularly came down to the Bay whenever she can to check up on the pupils she mentors.
"Technology has also made things easier, so we text and Skype," she said. "Though I have a passion for education, accepting the lecturing opportunity did not come easily, because I knew that I had to now leave a programme which was very dear to my heart. It was more like giving up my baby for adoption."
But after careful and thorough thought about it over a few weeks, she said she knew it was something she had to do.
By Balisa Ntloko
PROUD MOMENT: Thina Maqubela and her mother Khanyiswa at the Businesswomen's Association Regional Achievers Awards gala last week.
Picture: Brian Witbooi
Source: The Herald
Source: http://www.ru.ac.za/latestnews/youngwomanwinsbusinessaward.html