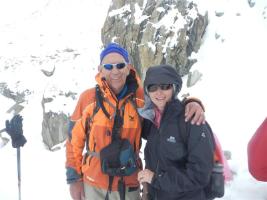 Lara Kruiskamp (1998) and Harry Botha
A broken wrist and altitude sickness could not stand in the way of Ballito resident Harry Botha finishing his Everest marathon adventure.
Botha and Lara Kruiskamp recently returned from the Tensing Hillary Everest Marathon, which starts at the Mount Everest base camp.
While most people would be pushed to their limits just getting to base camp, which is a 10 day hike, over 150 runners from around the world made the trek and ran the marathon afterwards.
"It was the most amazing trip," said 73-year-old Botha.
"When you hear about these outrageous ideas and say let's do it, you do not realise the implications of what you are getting into," he said.
Their journey started at the infamously small runway at Lukla airport in Nepal. From there the hike to base camp began.
"Altitude was on most people's minds, especially for us. It was such a big change from sea level."
Botha's race was nearly over before it began after he suffered from altitude sickness. Luckily a dose of medicine helped him through and he recovered.
"When I did Kilimanjaro I did not get sick, but my journey nearly ended at Namche Bazaar."
"People die very quickly from altitude sickness. Luckily I started feeling better the next day."
A woman around Botha's "vintage" – as he put it – had to be air lifted out after suffering from altitude sickness. She spent three days in intensive care.
As they neared base camp, the weather began to change. Snow started to fall, much to the joy of Botha and Kruiskamp.
Snow fell continually for three days and so much so that the start of the race was moved back to Gorak Shep from its original place at base camp, which is separated by about five kilometres.
"The place turned from a moon landscape into a winter wonderland. Our tents at base camp were virtually buried."
When race day arrived the runners could not have asked for better conditions. Despite the freezing temperature, the sky was clear and the sun was shining. This posed a problem later on as the ground became slippery.
Much of the race is spent walking due to the rocky paths. This was made worse by the melting snow.
Then 10km from the finish Botha had his first tumble.
"I had put studs on the sole of my shoes for grip in the snow but there was no traction on rock. One second I was going strong, the next I was flying through the air!"
Botha landed on his wrist and the side of his head. Made of tougher stuff, the veteran continued on. Just a short while later he fell again landing on the same wrist. Kruiskamp and some sherpas remained with Botha and together they made their way to the finish.
They crossed the finish line in 13 hours, five minutes and 10 seconds.
"Lara and I completed our first marathon together in total darkness. Considering the hurdles we faced I thought the result was great," he said.
Botha had an operation to fix his wrist last Thursday.
He is unsure whether he is the oldest runner to complete the marathon. The Courier was unable to confirm this by the time of going to print.
Gareth Jenkinson
Source: http://northcoastcourier.co.za/19962/harry-and-lara-on-top-of-the-world/
Source: http://northcoastcourier.co.za/19962/harry-and-lara-on-top-of-the-world/
Please help us to raise funds so that we can give all our students a chance to access online teaching and learning. Covid-19 has disrupted our students' education. Don't let the digital divide put their future at risk. Visit www.ru.ac.za/rucoronavirusgateway to donate