Coat Of Arms
Over the course of 2003 Ruth First House discussed, designed and submitted the following design as our House Coat of Arms. The Coat of Arms is used as a symbol of Ruth First House on stationery, clothing and other official house projects.
Our coat of arms can be blazoned as follows:
Tierced per pairle sable, azure and gules; in chief a phoenix argent rising from flames proper, charged on the breast with an escutcheon gules a fess argent; in dexter a Hebrew alef argent; in sinister a quill bend-sinisterwise argent; overall a pall vert, the chief side fimbriated or, the dexter and sinister sides argent; on a chief argent, a Xhosa warshield surmounting two assegais in saltire sable between two escallops gules.
Coat of Arms
‌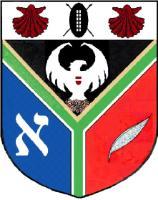 ‌
The Chief:
Symbolising dominion or authority. Taken in its entirety from the Nelson Mandela Hall Coat of Arms, to represent our residence's membership of the Hall.
Escallops:
Taken from the Graham family Coat of Arms, symbolising our geographical location in Grahamstown.
Spears and Assegai:
Traditional weapons of the Xhosa Nation, symbolising our geographical location in the Eastern Cape. Symbolising African heritage and the battle for freedom/quest for knowledge.
The Latvian Flag:
A small shield on the breast of the Phoenix featuring the Latvian flag(three bands of red and white) expressing visually, Ruth First's Latvian family heritage.
The backdrop of the Coat of Arms is the South African flag, symbolising the spirit of reconciliation that shapes the ethos of a democratic South Africa and informs our conduct within the Hall and Residence.
The Phoenix:
Traditionally represents resurrection, life rising from the ashes or triumph over adversity. In traditional Chinese culture it symbolises women. It was chosen to represent the spirit of Ruth First the woman and to symbolise the ethos of perseverance that we hope to instil in the women of the House.
The Quill or Pen:
Traditionally emblematic of the liberal art of writing and of learned employments. The quill symbolises Ruth First's career in Journalism and academia, as well as our pursuit of academic excellence.
The Alef:
The first letter of the Hebrew alphabet and the first number in its numerical system. Representing quiet literally the name of the Residence "First". It also represents Ruth First's Jewish heritage.
The colour version is used on certificates, while the black and white version is used on all residence stationery and correspondence as well as res T-Shirts.
‌
Last Modified: Wed, 01 Jul 2015 11:31:16 SAST