Coat of Arms
Our coat of arms can be blazoned as follows:
'Tiered in pale sable, gules and azure, a pairle vert fimbriated or to the chief and argent to the dexter and sinister, in chief, the scales of justice balanced on a sword per pale argent, sinister, a panther rampant or; dexter, an open book proper; on a chief argent two assegais per saltire surmounted by a Xhosa shield proper, between two escallops gules'.
The Chief: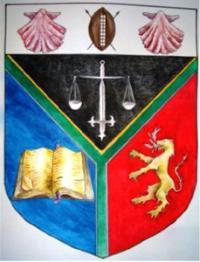 Victoria Mxenge Coat of Arms
Has been taken from the Nelson Mandela Hall Shield. It represents the place of Victoria Mxenge within Mandela Hall.
The Xhosa Shield and Assegaai:
Represents strength and awareness, the readiness to battle for truth, symbolic of our African heritage;
The Escallops (shells):
Symbolise our links to Grahamstown.
The Shield:
The Shield itself is divided into three sections like the Nelson Mandela Hall Shield. The Nelson Mandela colours, like the colours of the South African flag, are symbolic of the new hope engendered by the flag in the new South Africa. They symbolise our commitment to the principles of freedom and democracy.
In the black section:
A set of scales are balanced on a blunted sword. The scales represent Victoria Mxenge's background as a lawyer and her struggle for justice and freedom. The scales are balanced on a blunted sword showing the need for justice to be merciful and fairness.
In the blue section:
An open book which signifies studies and literally reading for a degree. One can pursue many avenues at Rhodes University but a student's purpose at Rhodes University should be achieving academic excellence.
In the red section:
A lioness. The female lion is known for her fierceness, her determination and her incredible courage while retaining a poignant tenderness. These are characteristics which the students of Victoria Mxenge House identify with.
The students of Victoria Mxenge House chose these symbols to represent them. These values are what the women of Victoria Mxenge House feel the members of the residence should aspire to. To fight for what they believe in and to fight for what is right, in the face of adversity.
Coat of Arms drawn by: Liane Haig and Lisa Klement (2005).
Last Modified: Fri, 11 Sep 2015 09:20:34 SAST