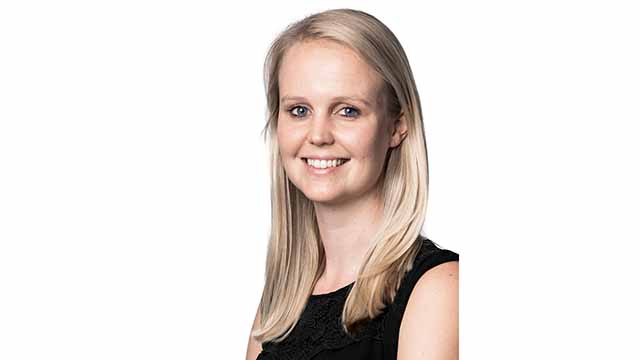 Rhodes University alumna Joanna Pickering was recently awarded the prestigious Skye Foundation scholarship to complete her second master's degree in Human Rights and Humanitarian Action at the Paris School of International Affairs, a graduate school within The Paris Institute of Political Studies (Sciences Po), in Paris, France.
Pickering, who is originally from Grahamstown, Eastern Cape is currently completing her first master's degree in European and International Human Rights Law through the University of Toulouse Capitole, a degree taught entirely in French. As part of her current degree, she is completing a three-month professional internship with a French advocate, Yves Laurin, in Paris.
In the time Pickering has been in Paris, she has found it to be a fantastic city. "It's impossible to get bored here," she said. "I especially love the cultural richness of Paris. There is always something interesting happening, whether it is in the realm of art, cinema, music, theatre or more."
Pickering's current masters in Toulouse was made possible through funding she received from the Eiffel Scholarship Programme of Excellence, a merit scholarship awarded by the French Ministry for Foreign Affairs to foreign students from emerging countries who wish to complete their masters or PhD studies in France.
Her second masters, which she is yet to commence, will be funded by the Skye Foundation -a scholarship she gained with the assistance of Professor Rosaan Krüger, Dean of Law at Rhodes University. The Skye Foundation is based in South Africa and was established by the Zylstra Family Trust to fund postgraduate scholarships in the country as well as abroad. The Foundation awards a number of scholarships annually to South African postgraduates on the basis of outstanding academic achievement in any discipline and their scholarships are tenable worldwide.
In 2010, Pickering obtained a Bachelor of Arts in French and Law and in 2012 an LLB at Rhodes University. Her decision to go into law was influenced by her parents who work in public interest law and activism, and this had a big influence on her growing up. "My parents' work made me realise that law is a good tool to help fight social injustices," she explained.
After getting her LLB, she worked at the Constitutional Court as a law clerk to Justice Zondo (now the Deputy Chief Justice), then completed her articles at Bowman Gilfillan.
Before setting her sights on furthering her studies in France, Pickering also spent some time working as a researcher for the Land and Accountability Research Centre at the University of Cape Town, focusing on the protection of the rights of vulnerable mine-hosting communities in South Africa.
"I have always wanted to study in France, for several reasons," she said. These include her love for the culture and language (having majored in French during her Bachelor of Arts) and her desire to expand her understanding of human rights law in both a European and international context. Pickering also believes studying in a bilingual setting would provide further opportunities to perfect her command of French, since French and English are two of the most important languages of international law and diplomacy.
In future, Pickering hopes to work in the defence of human rights abuses at the international level. Her particular interests lie in corporate and state accountability with respect to the protection of the fundamental rights of vulnerable groups. She would ideally like to work on those issues through international human rights organisations or diplomacy, but without losing focus on her home country.
Source: Communications
Please help us to raise funds so that we can give all our students a chance to access online teaching and learning. Covid-19 has disrupted our students' education. Don't let the digital divide put their future at risk. Visit www.ru.ac.za/rucoronavirusgateway to donate