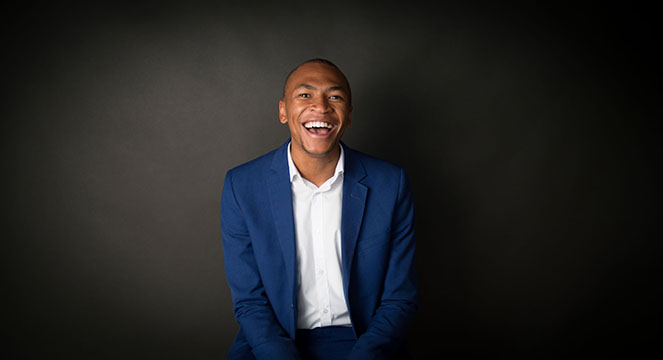 Name one artist you would love to meet.
It would have to be Gogo Esther Mahlangu. She is a vessel of knowledge and I think that there is so much that I could learn from a conversation with her.
What are you reading at the moment?
Year of Yes – How to Dance It Out, Stand in the Sun and Be Your Own Person by Shonda Rhimes. I want to experience different things this year, push beyondmy personal boundaries and get out of my comfort zone.
If you could change one thing about yourself, what would it be?
I would not change anything, I believe that every experience that I have hadin my life so far has happened for a reason. It has shaped who I have become and how I experience life. I constantly treat all my experiences as life lessons, often reflecting back on them and reminding myself where I have come from and using them to navigate the unknown path of adulthood.
How have the arts industries in South Africa changed over the last
ten years?
There has been an increase in the amount of research that is being conducted into the arts and creative industries over the past few years. With the establishment of the South African Cultural Observatory in 2015, we have seen a more formalised approach with regard to research
relating to the economic and social impact and contribution of the arts, culture and heritage sector in society. This has been necessary and will contribute to the development of more comprehensive policies and better implementation strategies that will benefit the sector as a whole.
Name one thing you think would improve the arts and culture
industry in South Africa.
Investing in and creating more opportunities for not just young South African artists but reaching across our borders using Absa L'Atelier as a platform for growth. As a country we have a lot of untapped talent in our youth, however, we do not invest much time or money into their
development. Over the past few years, I have had the opportunity to meet a number of brilliant young people, but there aren't enough opportunities for them. I believe that young people have the potential to bring about the much-needed change and innovation that South Africa's cultural
institutions are yearning for, if afforded the opportunity.
What is your most treasured possession?
A grey hoodie that I received as a gift from my late Aunt a few years ago before she passed away. Every time I wear it I feel closer to her and I also feel that everything will be fine despite the difficulties that I might be encountering at the time.
What do you regard as the lowest depth of misery?
Despair. A few years ago, I dropped out of my first master's programme after 18 months. Gripped with the fear of failing and suffering from imposter syndrome, I went through a period of despair, because I did not know how to comprehend the idea of failure. I managed to overcome that fear, registered for a new degree and completed it. The lesson that came from that was to
never give up.
What is it that makes you happy?
I love being in the outdoors, which brings both peace and exhilaration. It doesn't matter where it is and which season it is. If I find myself in the great outdoors, I will forget about everything and enjoy the moment.
Describe a defining moment in your life.
I believe that I have numerous defining moments, however, if I had to choose one I would have to say that it was the volunteering experience that I had in 2012, with Ntinga Ntaba Ka Ndoda, an NGO
based in Keiskammahoek, Eastern Cape. The former was my first volunteer experience whereby I was not doing 'in and out' volunteer work. It was the first time I lived with and learnt from individuals and a community that was doing the groundwork and benefiting from their own work. I had the opportunity to interact with people and understand people's daily reality beyond a superficial level and I also learnt the meaning of Ubuntu and true happiness in a small rural village in the Eastern Cape. It was this experience that shaped my desire to constantly want to get involved in developmental work of any kind, and it also inspired me to constantly strive to become an agent of change in my own sphere of influence.
What projects will you be busy with during 2018 and into 2019?
I will be part of a team of people working on the prestigious Absa L'Atelier art competition, now entering its 33rd year. The Absa Art Auction, which will be raising money for arts scholarships; the upcoming KKNK art festival, whereby we will be creating a number of functional beautification artworks for the town of Oudtshoorn. We are also in the process of putting together a number of diverse and innovative exhibitions in the Art Gallery showcasing works of our previous L'Atelier
contributors and winners.
Name one goal you would like to achieve in the next twelve months.
I want to make a difference in someone's life. I am still trying to figure out how I am going to do it. CF
Source: Creative Feel - February 2018 edition