OLD RHODIAN AWARDS 2006
These awards were presented by the Vice-Chancellor at the Founders' Day Luncheon held in the Gavin Relly Postgraduate Village on Saturday 26 August 2006.

MRS JOAN BROSTER (1937)
Mrs Joan Broster (1937) Joan Clark was born in the Transkei and grew up in the rural village of Engcobo. She attended school at Grahamstown's Diocesan School for Girls and on her matriculation registered at Rhodes where she obtained a BSc in 1935 and a University Education diploma in 1938.
Before being able to use her newfound knowledge, war broke out and Joan was called to serve her country as a military nurse. It was during this time that she met her first husband, Broughton Broster. After the war the young couple returned to the Transkei to run a small trading station and she began her work in documenting the importance of traditional beadwork to the people of the Xhosa nation.
A prolific writer, Joan has published five books, her latest being a history of Transkei pioneers, missionaries, magistrates and traders. Joan believes, however, that her greatest achievements are her collections of beadwork and traditional dress. These collections have been exhibited throughout the country and are now permanently housed at two South African Universities. Her work in building and documenting this fascinating element of our heritage was critical in ensuring that a significant part of traditional Xhosa culture, including traditions, medicines, customs, dress and lifestyle was not lost in the rush of a more modern age.
As Old Rhodians we join together in celebrating a colleague who has done so much to ensure that the richness and diversity of our region is captured for future generations. The thirst for knowledge that was instilled in Joan during her time at Rhodes has been put to good use and it is fitting that we as Old Rhodians acknowledge her achievements with this Award.
Mr Mike Lawrie (1966)

Mike Lawrie arrived at Rhodes towards the end of 1965 as the University's first resident technician for International Computers Limited. While working for ICL, Mike obtained his BSc (Honours) in Physics and Applied Mathematics through studying part-time at the University.
He then returned to work for ICL for a while, but was soon back at Rhodes, when in 1971 he took up the post of Computer Manager and then, later as Director of Information Technology.
Between 1977 and 1978, Mike took leave from his duties at the University and, using this time to good effect, obtained an MSc from the University of Manchester Institute of Science and Technology.
He returned to Rhodes and held the post of IT Director until 1994. It was during this time that Mike spearheaded the movement that brought the Internet to South Africa - the work for which he is best known, and most admired. Not only did he have the foresight to realise how vital the Internet would become, but his negotiating skills during a time of political turmoil in South Africa secured a deal whereby Rhodes was to become the initial Internet gateway for the whole of South Africa. Under Mike's stewardship, the IT Division established Rhodes as the undisputed leader in its field, providing unparalleled networking facilities that empowered researchers at Rhodes and other academic institutions. Most importantly, Internet access enabled outreach to other African countries bringing connectivity to a number of countries on the continent.
Mike left the University to work for the National Research Foundation, managing their South African academic networking operations. He continued to devote a great deal of time to enhancing the Internet elsewhere in Africa and he has never been afraid to take public officials to task for policy or regulation that inhibits the free flow of information.
In February 2002, Mike was guest of honour at the tenth birthday celebrations of the Internet Society's South African Chapter where he was awarded the inaugural ISOC-ZA Annual Award for Outstanding Contributions to the Internet Community in South Africa.
As Old Rhodians it is fitting that we reward Mike Lawrie with an Old Rhodian Award in recognition of the valuable contribution that he has made to communications and information technology and in positioning Rhodes at the forefront of this important field.
Mr Simphiwe Tshabalala (1986)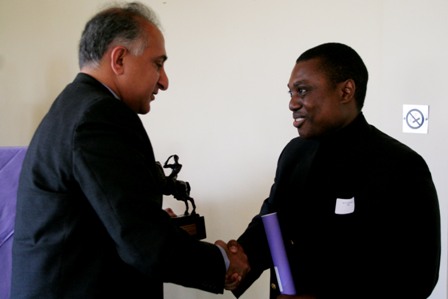 Simphiwe Tshabalala completed a BA and an LLB at Rhodes between 1986 and 1990. Additionally, he holds a Master of Laws from the University of Notre Dame, and a Higher Diploma in Tax from the University of the Witwatersrand.

Sim's meteoric career path began at Bowman Gilfillan Hayman Godfrey Inc in 1991. He then joined Real Africa Durolink in April 1994, and moved to the old Standard Corporate and Merchant Bank as Director of Structured Finance in September 2000.
In 2001 Sim was appointed Managing Director of Stanbic Africa. This was a particularly challenging post as the Division was underperforming badly. However with Sim at the helm Stanbic Afica was soon turned around and became a highly profitable and important contributor to the Standard Bank Group.
Sim wore two "hats" for a while – MD of Stanbic Africa, as well as Deputy MD for Retail Banking for Standard Bank South Africa. In March 2005, he relinquished his position at Stanbic Africa to dedicate his time and energy to the bank's domestic retail operation. Sim has recently been appointed Chief Executive, Personal and Business Banking for Standard Bank South Africa. He is also a member of the Standard Bank Group's Executive Committee.
In February 2005 Sim was rated by The Banker magazine as one of the "Top 18 under-40 bankers in the world". This was a huge endorsement from his peer group and marks Sim as one of South Africa's leading young bankers. Colleagues hail him as a great leader and a man who has contributed enormously to the development of both his company and the African continent through his exemplary work in the banking field.
As Old Rhodians we are honoured to acknowledge Sim Tshabalala as a role model for all graduates - he is a credit to his country and to his alma mater.
Last Modified: Fri, 15 Jul 2011 15:00:39 SAST