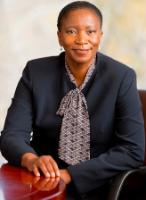 Imogen Nonhlanhla Mkhize grew up in a humble home environment where her mother instilled a moral compass that has guided all her actions, choices and decisions.
She graduated from Rhodes University in 1984 with a BSc Information Systems, followed in 1985 by a Higher Diploma in Education, before obtaining an MBA from Harvard Business School in 1995 and a Diploma in Company Direction with the Institute of Directors/ GIMT in 2000.
Despite her international education experience, Imogen feels a strong connection to Rhodes University. "It was a privilege to go to Rhodes ... it has a campus culture supportive of teaching and learning and I felt nurtured and encouraged to explore my abilities".
For over two decades, Imogen has been an advocate of good governance and has held directorships in a myriad of public and private companies, including mining, financial services, manufacturing, information technology and telecommunications. Imogen's early career was with Anglo American, Andersen Consulting and the financial services group Nedcor and later becoming the managing director of telecommunications group Lucent Technologies South Africa. Formerly she was the chairperson of Richards Bay Coal Terminal, director of Murray & Roberts, MTN SA, Illovo Sugar, Alan Gray, Datacentrix and the CSIR. She is an emeritus member of the Harvard Business School Global Alumni Board and a former member of the Financial Markets Advisory Board. She led the triennial international oil and gas congress as the chief executive officer of the 18th World Petroleum Congress.
Imogen still finds the time to build and nurture her private business interests under Solegna Group and commit substantially to her governance work, which has evolved tremendously in recent years.
She is presently a director of Sasol Limited, Mondi Group, NPC-Cimphor and Imbewu Capital Partners and is a member of the Accenture South Africa Advisory board and of the Ethics Institute of South Africa board. Imogen recently presented a paper at an Ethics Conference as part of her long-term quest to address the ethical challenges facing organisational leadership. As a member of the Ethics Institute of South Africa, she is constantly engaged with matters dealing with ethics as an integral component of responsible leadership.
She has been recognised by the World Economic Forum as a "Global Leader for Tomorrow", was listed in the publication "Trailblazers – South African's Champions of Change" as one of the fifty most Influential Black Business People in South Africa. She was one of eighteen directors awarded the Chartered Director designation by the Institute of Directors of South Africa at the launch of the profession in May 2013.
Imogen is a generous donor to the Rhodes Annual Fund, a long serving member of the Rhodes Board of Governors and Chairman of Rhodes Business School. She is a true professional and role model, who embodies all the qualities that make her an outstanding person, richly deserving of the Distinguished Old Rhodian Award.
Imogen Mkhize's Acceptance Speech
Imogen Nonhlanhla Mkhize
30 August 2014