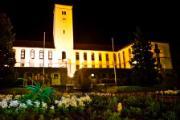 THE tragic deaths of two Rhodes University students during a fishing outing near Grahamstown on Saturday has galvanised Grahamstown.
More than 200 people from town and gown attended a memorial service yesterday for campus Muslim Students Association (MSA) leaders Mohammed Amin Mussa and Rizwan Bhayat, who drowned when the canoe they were fishing from capsized at Settlers Dam.
During the moving memorial service, which included recitations from the Koran and prayers, mourners from all faiths were told how the two students lived for their families in Zambia, excelled at their studies - and were crazy about fishing.
Holding back the tears, student leader Muhammed Zaahid Hussain said Bhayat loved fishing and football so much he would not stop talking about his favourite pastimes.
"When Riz did speak it was mainly about two things - soccer and fishing," he said.
"His knowledge in this regard was immense and during the week you would see him either with a soccer ball or his boots and on the weekend with his fishing rod and rapala."
Mohammed Adam paid tribute to friend and MSA member Mohammed Amin Mussa, saying even though he was passionate about fishing, he was also immensely dedicated to his faith "and displayed a genuine, reciprocated love for his friends and the community at large".
The two men hired a canoe on Saturday at Thomas Baines nature reserve to fish with a friend, Mohamed Gaffoor - who managed to swim to safety and raise the alarm after they capsized in heavy wind.
By yesterday afternoon it was still not known whether the men had taken life jackets from park officials when they hired the canoe.
Although the Eastern Cape Parks and Tourism Agency earlier said they were investigating the life jacket issue attempts to get comment yesterday proved fruitless.
Eastern Cape disaster chief Captain John Fobian, however, said on Monday the men were not wearing life jackets when their bodies were retrieved on Sunday.
During the memorial service, university Student Affairs head Dr Colleen Vassiliou said as sad as the unexpected tragedy was, the experience had left her feeling "humbled, hopeful and honoured".
She said she was first struck by the calibre of the people she was dealing with when she phoned the students' parents in Zambia to tell them about the accident.
"What incredible people. I never knew Rizwan and Mohammed but over the next two days I got to know their family and friends," she said.
"What I did learn about the two students while speaking to families is that they were mature third-year students, gentlemen who cared, hard workers who academically achieved, individuals who showed great respect specifically to their faith, and two young men who loved to fish."
Vassiliou said during the two day search of the dam she was honoured to watch the community pull together "in a way I have never witnessed before".
"I feel honoured to have witnessed the sincere love of a mother and father, siblings, family friends and community members."
Key university staff led by acting vice-chancellor Dr Sizwe Mabizela spent hours at the dam during the search.
Mabizela said staff had counselled family - especially when the bodies were found. He also praised police for their untiring efforts to find the missing men.
By David Macgregor
Source: Daily Dispatch
Source: Daily Dispatch
Please help us to raise funds so that we can give all our students a chance to access online teaching and learning. Covid-19 has disrupted our students' education. Don't let the digital divide put their future at risk. Visit www.ru.ac.za/rucoronavirusgateway to donate