O Week
Serenading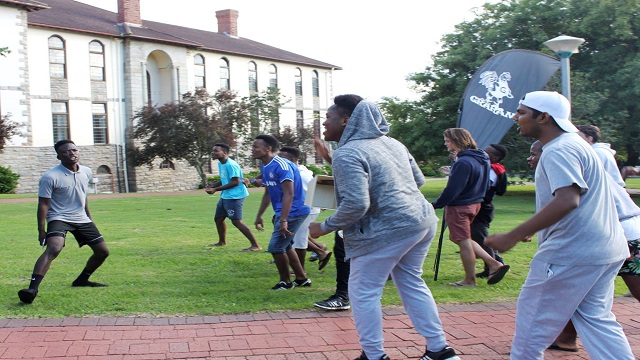 Amazing Race
During O Week, an Amazing Race was organised for the Drostdy Hall First Years. DDS Gas kindly donated R500 to the hall in order to purchase meal vouchers from a restaurant which were awarded with certificates to the winners of the amazing race at the Welcome Dinner.
Sponsor
RU Jamming
The Prince Alfred & Graham House First Years won RU Jamming this year, with Allan Gray House coming third.
---
Welcome Dinner
---
---
---
Drostdy's Got Talent
We are all blessed with gifts, hence performing in a talent show is a great way to put your skills and gifts to use. Remember that talents come in many forms, so always feel confident in yourself, and at least try out for next year; you might be the winner.
Drostdy's Got Talent is a live show held annually where Drostdy students show case their talents beyond their everyday university life. Participating in the Hall's talent show is a great way to engage and share talents with your friends and the campus audience.
This year (2017) Drostdy's Got Talent Show was in in the Barratt Foyer hosted and managed by TheDreamTeam (Emmanuel Kadewere,Lewis Koma, Khanyi, Kifilwe and Nipho,) there was a huge turn out! We hosted lots of talent from dances, to cultural songs, poetry and solo performances.
Guitars were strum with sweet melodic tunes and voices, vocalists gave breathtaking performances (both singers and poets) and the audience was cheering like nobody's business. The ambiance was so lively and the venue was packed with people.
A total of 12 acts entered this year's performance. They all provided the audience with a rich, varied and highly entertaining programme of spectacular events. Each act was mind blowing and the performances were very creative and unique. There were no mistakes, no off beats and performers were consistent with their timing and contrast.
On closing remarks, judges, Dingaan Booi, Pumla Myeni, Sakhumzi Mbilini and Khensani Meseko commended all of the contestants on their resilience: 'We cannot underestimate the confidence it takes to perform live in front of such a large audience. I know many of the students have been practicing for a long time. We are very impressed by the quality of their performances and the tremendous support they have received from the audience. They are all winners! And that they all deserved a round of applause.' (This is roughly what the judges had to say...')
Everyone was amazing however our congratulations on the night went to Asive, Zombuso, Sinegugu and Portia for their beautiful poetry piece that depicted the world of Love and reprisal, the balancing of the two concepts in the artistic manner captured the hearts of many that night. They truly deserved to win this year.
Second place went to Sebe for his spoken word on women.
Third place went to the Gentlemen from Graham house for their outstanding cultural singing.
- Emmanuel Kadewere, Drostdy Hall Senior Student -
---
Leavers Dinner
Last Modified: Tue, 12 Dec 2017 11:10:29 SAST